| | |
| --- | --- |
| Book Review: Witness of an Avid Listener | |
| By Rajiv Trivedi | |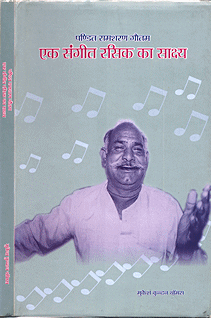 It should happen more often; it is quite rare that a book should have for its subject matter, not the art-form, nor the artiste but a member of the audience. Writers, most of time, have scholastic leanings and practitioners who write, feel intensely about the art-form. Thus books tend to focus on subject matter or the maestro of a given art-form.
Mukesh Kundan Thomas, not being limited to practice of music was an administrator, organizer, writer and compeer. In this role, he had ample opportunity to look beyond art-and-artistes and empathize with unnoticed faceless element of any performance that remains unsung despite being an essential constituent. As administrative officer of Ustad Alauddin Khan Sangeet Academy, he organized hundreds of concerts, festivals in towns of Madhya Pradesh. As a compeer he was invited to several more, around the country. Everywhere he went, Mukesh encountered a grand personality who would sit almost exactly opposite the artiste as near as possible and with accurate accolade enhance the mood and performance of the artiste.
Pandit Ramsharan Gautam, son of a music-loving farmer was thrown out of several schools as he would always run off to attend some music class or concert instead of regular school lessons. The book is a loose narration of how this illiterate person became representative of Indian audience. Apart from the folk music and devotional choral groups that toured his village, young Ramsharan first attended a classical sitting in 1951 at Pt. Anokhelal's house, squatting on cluster of sandals and shoes outside the hall. He was transported by musical renditions of such stalwarts as Pt. Omkarnath Thakur, Dr. Lalmani Misra, Begam Akhtar, Kanthe Maharaj, Siddheshwari Devi, Pt. Mahadev Mishra etc. The biographical elements along with charting musical interests, artistes and performances also weave a socio-economic progress of a burgeoning nation and comment upon changing mores and values.
The book, probably because of the unusual nature of its subject, has attained a strange form -- anecdotes merging with homilies; fantasy, facts vying with tall tales; blatant confessions that move and full throated allegations that disturb. One learns how irrelevant, extraneous and irksome is the individual enthusiast to most organizers, and even artistes. Gautam, after attending Khajuraho dance festival invariably ended curling under a tree as the Dharmshala kept doors locked from 10 pm to 5 am. He reports how even after recognizing him since 1971, he was shooed away from his seat three times by organizers of a prestigious music festival. As contrast, the connoisseur proudly narrates how renowned Santoor player Pt. Omprakash Chourasiya, deputy director of Ustad Alauddin Khan Sangeet Academy requested him to inaugurate Amir Khan festival at Indore in 1995. "Thus honoured, I felt that only an artiste can appreciate the value of a listener."
A must read for all young musicians who wish to comprehend the heart, mind and magnanimity of Indian audience that is willing to loose a lot in order to encourage them. To more literary minded the unassuming candour marks this book as an example of post-modern style in Hindi writing. The editors, Romesh Joshi and Sudhir Pande contributed towards this (in all probability, unconsciously). That this 2004 publication stays largely unknown is a reflection on the changing priorities of an organization, which in words of Ramsharan Gautum, "is the only one in whole India to display true devotion to culture".
Browse collection or Order on Omenadshop.
---
Suggested:
Bharatiya Sangeet Vadya on wikipedia
Sitar Compositions in Ome Swarlipi Read Review by Pt. Omprakash Chaurasiya
Indian Classic Music & Gharana Tradition
Bhāratīya Shāstrīya Sangīt: Shāstra, Shikshan Va Prayōg
List of books on music.
Musical tracks.
Annotated compositions.