| | |
| --- | --- |
| New Release | |
| By Pt. Chhote Lal Mishra | |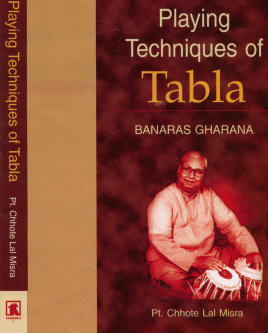 The book is both history and technique. It is also an attempt to contain time. Regardless of the changes and modern tastes, Pandit Chhotelal Misra, with detatchment of a sage, records the knowledge his mentor and father blessed him with. Pandit Anokhelal Mishra's contribution to art of Tabla is not limited to this volume alone. The author has several other books to his credit.
Order or browse collection on Omenadshop.
---

References :
Bharatiya Sangeet Vadya on wikipedia
Sitar Compositions in Ome Swarlipi Read Review by Pt. Omprakash Chaurasiya
Indian Classic Music & Gharana Tradition
Bhāratīya Shāstrīya Sangīt: Shāstra, Shikshan Va Prayōg