| | |
| --- | --- |
| New Release: Raga - Rupanjali | |
| By Dr. Pushpa Basu | |
Raga - Rupanjali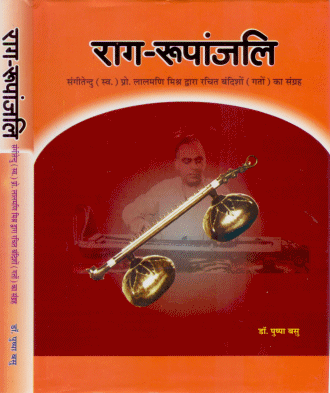 Dr. Pushpa Basu retired as Professor in Instrumental Music from Music Faculty, B.H.U. only to devote herself with greater devotion to the cause of music. At a time when music was best tolerated as a decorative skill, she had opted for scholarship in this discipline. Fortunate to come in contact with stalwarts like Pt. Omkarnath Thakur at the very start of her musical career, she was drawn to Sitar. Enthralled by her mentor, Dr. Lalmani Misra, she soon became an authority on string schools in Indian music completing her doctoral thesis on the subject.
Dr. Basu, an avid student and keen scholar mastered one Raga after other and soon began to prepare a compilation of Dr. Misra's compositions. As a teacher she charmed her students with depth of her knowledge, elucidating the complex compositions and phrases that she had learnt from her "Guru ji". After his death she continued to discuss Dr. Misra's music with son, Dr. Gopal Shankar Misra.
She had always wanted to express her gratitude to her mentor and finally after years of work she has paid tribute to him in the shape of this book, Raga - Rupanjali. The book is divided in three sections. Dr. Misra's composition are more remembered as Misrabani compositions making use of such Tal-s as Jhap-tal, Ada Char Tal and Jhoomara, which he was wont to play in his later years on sitar as well as Vichitra Veena, for this book Dr. Basu has chosen compositions in Teen-tal. These compositions are comparatively easier to understand and practice. It is her experience as a dedicated teacher that she has presented these rare compositions which can easily be practiced by students as well as scholars. However, there are compositions in Roopak, Jhaptal, Ada Char Tal, Pancham Sawari as well.
Indian music has a long tradition but it has largely remained an oral one. Because of the innate movement of notes within Raga-s it has always been difficult to signify them absolutely; the annotations used have worked only up to a limit. This has discouraged most artistes and learners from relying on written word in favor of personal instruction. Annotating string compositions is still more difficult as it involves movements of both hands. Dr. Misra encouraged his students to annotate string-compositions so that the growth in Indian instrumental music could maintain its upward curve.
The book has been organized with express thought of learning ease. Sixty compositions comprising of Vilambit and Drut compositions in 25 Raga-s were selected among many composed by Dr. Misra for teaching beginer students. One or two each from such Raga-s Bhupali, Bhairav, Bhairavi, Todi, Yaman, Des, Kafi, Bihag, Hamir, Shankara, Durga, Bahar, Kedar, Malkosh have been grouped earlier in pages 37-86. Dr. Basu selected 224 compositions in 115 Raga-s that her mentor had created for students in higher eduction, devoting almost 200 pages to this section. In the final section, compositions in various beats and otherwise special in some regard have been discussed.
Over three hundred compositions given in Raga-Rupanjali, cover almost all nuances of major Raga-s and serve not only as guide to individual compositions but also nurture greater understanding of Indian Raga system. Such rare Raga-s as Mirabai ki Malhar etc. have been discussed in sufficient detail. The urgency for developing a notation system is one of the fundamental concepts, which contribute to book's longevity. Also included with the book is a compact disc containing, apart from other Raga-s, a rendering of Raga Madhukali by Dr. Lalmani Misra.
Order a copy of this book and browse for others here
---
Suggested:
Bharatiya Sangeet Vadya on wikipedia
Raga Vibodh: Misrabani Purchase on external site
Sitar Compositions in Ome Swarlipi Read Review by Pt. Omprakash Chaurasiya
Bhāratīya Shāstrīya Sangīt: Shāstra, Shikshan Va Prayōg
List of books on music.
Musical tracks.
Annotated compositions.