| | |
| --- | --- |
| Nestling among Honey-buds | |
| By Dr. Rajiv Trivedi | |
If it was Rosebud that haunted Citizen Kane all his life, it was nectar of honey-buds, which sweetened the notes of that ancient instrument, whenever the maestro caressed it. Vedic Bana, called Brahmaveena, Ghoshvati or Ektantri Veena in ninth century AD is known today as Vichitra Veena. When one comes to learn that Madhukali [sliver of honey?]1 is an organisation dedicated to the memory of internationally renowned Vichitra-veena player Sangeetendu Dr. Lalmani Misra, he ceases to wonder why such great masters as Pt. Ravishankar, Pt. Hariprasad Chourasia, Pt. Shivkumar Sharma, Ustad Zia Fariddudin Dagar, Dr. N. Rajam, Pt. Rajan & Sajan Mishra have accorded their patronage and unreserved support to it. Named after one of the Raga-s this avid scholar created, Madhukali is also the name of the choral group that in the past fifteen years has established the joy and power of group-singing. Madhukali Vrind performed with probably the largest group ever, which included almost 5,000 children in 1986. By picking up choicest poetry of traditional and modern poets, Madhukali Vrind has created awareness in the young generation for the form of Vrindagana, as well as good poetry throughout Madhya Pradesh.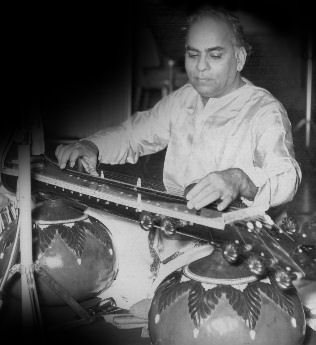 Dr. Lalmani Misra unravelled the secrets of Sama-gana, and with an aim to keep this discovery current, created Raga Sameshwari a vocal rendering of which was released by an American record company in 1983. To honour the memory of this scholar-artiste, UNESCO released a Compact Disc in 1996, La Musique de Pandit Lalmani Misra. Born in Kanpur on 11th august 1924, he was only six when losing all their possession in the Hindu-Muslim riot his family migrated to Calcutta. There he was initiated into Dhrupad style of singing by Pandit Gobardhanlal. He later learnt harmonium from Vishwanath Prasad Gupta, Dhruvpad-Dhamar singing from Pandit Kalika Prasad and Khayal-singing from Mehandi Hussein Khan. Although he played and acted in several recording, theatrical and film companies, he would love nothing better than to travel with Swami Pramodanand Brahmchari giving Dhruvpad performances all over Bihar and Uttar Pradesh.
The wander lust, albeit with an aim to perfect his music, made him accept Pt. Uday Shankar's invitation to join his troupe as Music-Director in 1951. Lalmani had already perfected Vichitra Veena and surprised everyone by his impeccable performance on this ancient Indian instrument in the annual music conference of Maris College, Lucknow in 1950. He travelled with Uday Shankar Dance Troupe composing music and giving Vichitra-Veena performances all over Europe, England, America, Canada, Srilanka for four years, creating a soil and sowing the seeds for Indian music which blossomed some years later with Pandit Ravishankar and Ustad Ali Akbar Khan.
Apart from such scholarly treatises as Bhartiya Sangeet Vadya [Bharatiya Jnanpith, 1973] and Tantrinaad [Sahitya Ratnalaya, 1979], history shall ever be indebted to Dr. Misra for retrieving a lost jewel – the twenty-two sruti-s. The scientist in him would not rest till the nuances he or an equally proficient musician could hear, were proved in an objective manner. He crafted sruti-veena and for the first time, demonstrated on a single instrument how these twenty-two nuances could actually be heard and identified. Through measured use of Mizrab Bol-s, Dr. Misra propounded a method to penetrate into any Raga with ease and bring out its most complex but beautiful combinations of melodic affinities. He developed this technique to create a method for playing 'Vakra Raga-s' Demonstrating his adeptness at using stroke-combinations to match the innate essence, movement and accent of notes, he created over a thousand unique compositions in almost all known Raga-s. The selection of complex mizrab-stroke combinations to bring out essence of Raga is known as "Misrabani".
Almost for two decades now, Madhukali, under the able helmsman-ship of its founder-director Om Prakash Chourasiya, has organised music festivals regularly at Bhopal. The activities reached a climax in 1999 when a five-day festival to commemorate the 75th birth anniversary of Dr. Lalmani Misra was planned as Virasat – a festival of artistes hailing from top-notch families of musicians. Santoor maestro Pt. Shiv Kumar Sharma inaugurated the festival. His son Rahul gave a jubilant start to the festival that grew as one evening after the other saw proficient dedicated performers proudly present the knowledge of their peers. The crescendo was planned for 14th, the final day of the festival, when Dr. Gopal Shankar Misra was to give tribute to his father by presenting the first-ever trio of Vichitra Veena-s in a millennium along with twelve-year-old son Gandharva Shankar and daughter Shruti Shankar. On 13th afternoon Gopal Shankar succumbed to a sudden heart-attack preferring the other shore of Virasat -- alongside his father. The recording he had made just weeks back at Real World remained his final legacy.
Apart from Rahul, to whom Yogesh Shamsi of Mumbai, son and disciple of noted Khayal wizard Dinakar Kaikini, provided good tabla support, Lalmani ji's daughter, Ragini had given a Sitar recital. Young Rimpa Shiva enthralled audience with solo Tabla, Rakesh Chaurasia, with his melodious flute recital. Shaunak Abhisheki presented the finer points of Jaipur and Agra schools. Actually more 'second generation' musicians were scheduled to perform on 13th and 14th August. On the list were: Meeta Pandit (vocal), daughter and disciple of Lakshman Krishnarao Shankar Pandit of the Gwalior gharana; Bahauddin Dagar (Rudra veena), son and disciple of the late Zia Mohiuddin Dagar, the famous Rudra Veena player; Kalapini Komkali (vocal), daughter of the late vocal-stylist Kumar Gandharva and his musician wife Vasundhara Komkali; and Deepak Maharaj (Kathak), son and disciple of Kathak maestro Birju Maharaj.
Such is the influence of this scholar virtuoso that even in the age of transience, disposables and Infotech, there are people who are working to bring to light more of Dr. Lalmani Misra. Dr. Laxmi Ganesh Tewari, an ethnomusicologist at Sonoma State University, California has planned a visit to India this December to appraise the wealth bequeathed by this great musician in the shape of recordings. Dr. Tewari estimates that there exist almost 110 hours of Lalmani ji's lectures on Sama, various Raga-s and Vichitra Veena recitals of rare Raga-s. Another of his disciples, Dr. Nancy Nalbandian is planning a project to edit his writings and present his scholarship to international audience. The nectar is winsome as ever.
---
References :
1 Madhu sanskrit n. Honey, Nectar, Sweet concoction. (Samantar Kosh: Hindi Thesaurus. Kumar, Arvind & Kusum Kumar. NBT, Delhi:1996 ref. 280.9)
Kali hindi n. 1 Bud 2 Flake, piece, sliver. (ibid. ref. 585.69)
---

Links:
Time Theory of Raga-s -- Dr. Lalmani Misra
Points to Ponder: Some Do's for Musicians -- Dr. Lalmani Misra
Dr. Misra and I -- Nancy Nalbandian
Dr. Lalmani Misra on Wikipedia