| | |
| --- | --- |
| Dr. Misra and I | |
| By Nancy N | |
As we have turned a new millenium with globalization, it is becoming more difficult to remember the time when travelling from continent to continent was unusual, especially to stay for long periods of time immersed in another culture.
When I was 17 I first had this total immersion, only Indian culture came to the University of Pennsylvania in the form of Sangitendu Lalmani Misra and Padmasri Gyan Prakash Ghosh. The University was then, as it is now, one of the very top ranking universities in this country, drawing students from all over the world to study there. I remember walking into Dr. Powers' music classroom and beholding Dr. Misra and Mr. Ghosh with a kind of special wonder. I was privileged to be admitted to the course because I had a sitar from my short summer visit to India a year earlier as a high school exchange student.
We began classes soon after. Those of us who had had instruments before already knew something about how to hold them and play basic scales. Dr. Misra held such a charm and mystique with both his music and his charismatic personality. Within 6 weeks we had learned a drut gata in Bhairavi, with short alap, fast tans and todas with interesting tihais, and jhala. We performed this piece as a group to the South Asia Seminar at the University at great speed, while Dr. Misra accompanied us on the tabla. We were well on our way. In the meanwhile, we all at the University had had the opportunity to listen to a real master of Indian music, playing with such depth of soul and heart that it didn't matter to any of us that the music was "foreign," and on this interesting, or "variegated" vicitra vina.
Some of us later found how virtually impossible this instrument was to play, as he let us try - we could not even hold our arms in the playing position a full minute, not to speak of finding correct notes with the heavy, slippery green globe, with no frets on the strings! Here we had been enjoying watching him throw tans at an unbelievable speed with no conception of the added difficulties of the instrument's own complexities.
Dr. Misra was recognized here as a clearly gifted teacher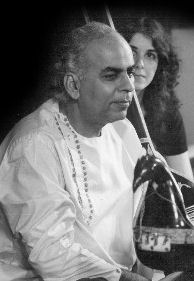 - one of those rare, rare individuals who can both perform at the highest level and teach with that very same depth.
The rest of that year we learned more compositions and techniques, and it became apparent that we had each been gifted with different skills. We began playing different ragas with different compositions to display those talents. I concentrated on Raga Puriya Kalyan, so that I could actually learn to improvise and listen to the tabla. I focussed on learning to do tihais in slow and fast compositions, starting from various points and ending in different places. I particularly enjoyed tihais starting from anywhere in the slow composition and ending on mukhra, during my second year with Dr. Misra. Unlike the traditional method of learning scales for years, Dr. Misra taught us those scales within the compositions, and made us strong in rhythm and tihais, so that we could learn as fast as possible in our limited time with him. This allowed us to also perform for others, and students were encouraged to join us by seeing what we were able to do so quickly. He made us into mini-ambassadors of music within a very short time.
Soon we all looked forward to his veena concerts which were once a week. And each student had his or her chance to perform solos as well. These were held in mehfil style in private homes, and at the university. Dr. Misra and Mr. Ghosh were invited frequently to perform all over the United States.
After the two years here, I went to India studied at BHU. Dr. Misra returned to the United States again several times, and at one point suggested to the Department Chairman Dr. Lambert that I teach the classes so that he could return to more advanced students rather than beginners at each visit. We worked together until 1978 - when he returned to India. It was during this time that Dr. Misra became ill and there was no greater tragedy among that community of musicians tied between Banaras and Philadelphia than his untimely death. There were so many of us who loved him through his music.
When I listen to the birds as I awaken, I reproduce their calls, and remember how Dr. Misra taught me to take inspiration from nature - he would pluck a flower or a stem of seeds and play a pattern of meends or murkis to demonstrate the innate parallel design of nature and music. Sometimes when I speak with them in their musical tongue they become puzzled. When I played sitar on my porch and watched the little wildlife and birds moving I could not tell whether they are moving to my music or I to theirs: I had realized early on that any two things in rhythm with themselves are in some sort of spiritual rhythm with each other - whether, tigun, chagun, satgun or ari or something deeper.
Now I watch Indian music and culture being totally assimilated into American life. In my suburban neighborhood alone there are many Indian restaurants, and many children of Indian heritage attend the schools here. You can even hear Indian musical instruments integrated into the background of television commercials and the muzak heard on elevators! Visit the campus of any top grade university and you will see many, many faces from India. But you will not hear the music of someone like Dr. Misra - music that vibrates in the soul like taraben.
I wonder what Dr. Misra would have thought.
---

References :
Points to Ponder: Some Do's for Musicians
Dr. Lalmani Misra on Wikipedia