Madhukali - Omenad:

'Role of Instruments in Indian Music' -- International Conference

By Shruti Shankar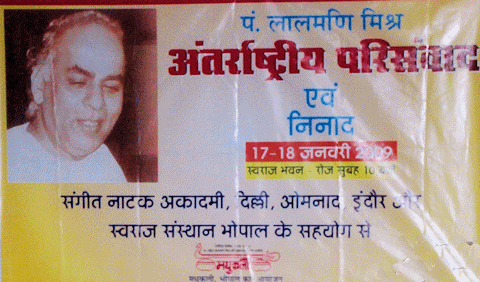 The two day conference of Omenad was organized at Swaraj Bhawan, Bhopal. Scholars from various parts of India as also from varying disciplines had gathered to offer their expertise on musical instruments. Dr. Laxmi Ganesh Tewari, Professor of Ethnomusicology at Sonoma State University had planned his visit to South Asia specially to attend the conference. Celebrated as 'Boy Wonder' and 'Sitar Wizard', Dr. Chandrakant Sardeshmukh too modified his schedule at Japan to attend the conference.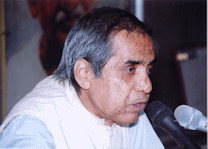 On 17th morning several local musicians and enthusiasts as well as some interested ones who had traveled all the way to Bhopal reached Swaraj Bhawan in time for the inaugural session. Swaraj Bhawan is located in same campus as Rabindra Bhawan. The former encourages philosophy as latter promotes arts. To most enthusiasts an added attraction for the conference was Ninad Concerts scheduled on both evenings. The venue for the concerts was chosen with equal care. The renowned Bharat Bhawan offers flawless sound system that does not mar the purity of music while allowing the audience to feel proximate to the artiste.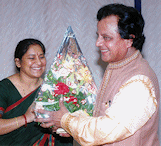 Like most delegates, Dr. Chittaranjan Jyotishi, Vice-Chancellor of Maharaj Mansingh University of Music and Arts, Gwalior had reached the previous evening to inaugurate this conference on "Instruments in Indian music". The event started with the director of Madhukali Pt. OmPrakash Chourasiya's welcome address. He pointed out that Madhukali was dedicated to teachings of Dr. Lalmani Misra and had been organizing various events in his memory since 1983. In twenty five years of its existence Madhukali started the first choir of Central India, organized music festivals and started the trend of thematic concerts. Realizing the need for strengthening the knowledge base of music, it collaborated with Omenad to hold colloquium, symposium and conferences. It had already published books and music. The Madhukali choir has presented songs and poems of stalwarts from medieval period as well as modern age. With increasing global interest in Indian music, it is now time to present contemporary Indian thoughts on Indian music before the world.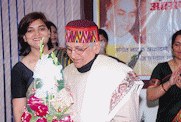 As if on cue, Dr. Jyotishi – renowned vocalist who learned with Padmashree Pt. Bhavrang – started his inaugural address with recital of a Vedic hymn. He described the four MahaVadya-s – Tat, Avanaddh, Sushir, Ghan – as essential accompaniment for the fifth – Kantha or human throat. Establishing the connection between historic and the modern he straightaway broached the contemporary situation, examining the state range and fitness of various instruments like flute, sarangi, violin, harmonium, tanpura etc. to accompany classical vocalist. He forwarded theories why flute and sarangi accompaniment occasionally faced disfavour and harmonium gained strength despite following western equally tempered scale.
To provide ample time for submission as well as some for discussion, two sessions each before and after lunch on both days were planned. After the key note address of Dr. Jyotishi, Arati Rao of Bangalore was invited to present her paper, "Mysore Bani in Veena".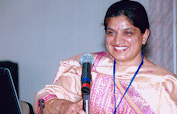 Not only had the scholar worked hard to wade through literature apart from personal interviews with maestros, she had also gathered audio and video clips which authenticated her submission that modern Vainiks had incorporated changes in fingering and other techniques to make the rendering more powerful. Three of the participants played Saraswati Veena so Arati's paper created a lively discussion.
Dr. Kiran Deshpande, renowned Tabla virtuoso chaired the first session after tea. The three papers scheduled to be presented were equally enthralling, but due to last minute pressures, the third "Parasitism in instruments in context of ICM" could not be presented. Professor, Ustad Alauddin Khan Chair, Rabindra Bharati University, Kolkata Dr. Sanjoy Bandopadhyaya gave a wonderful presentation entitled, "Sarod: Fresh Thoughts".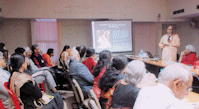 Dr. Bandopadhyaya has researched extensively in tonal qualities of Indian instruments and keeps regular contact with musicians, instrument makers, students and innovators. With audio and video clips he proved how some of the experiments have improved upon the existing Sarod in such criteria as weight, length, tonal quality, loudness etc. Musicians have replaced the membrane with different material, inserted microphone, amplifier etc. in Tabli and have even made it portable by breaking it into two connectible pieces.
The second paper in the session was presented by Dr. Ragini Trivedi. A virtuoso of Sitar and Jaltarang, she has worked on Raga-style relationship in contemporary string schools, Indian music Notation besides performing, composing and publishing Misrabani compositions.

She submitted that in a fast-changing world, instruments like Shruti Veena served as anchors for Indian music system. The flash presentations illustrated the complex process of Bharat's Chatuh-Sarana through which the great sage obtained the musical relationship of notes. Dr. Lalmani Misra was first to manifest the abstraction of Shruti-s through his invention of this instrument where all the Shruti-s can be heard simultaneously. Dr. Mukesh Garg, veteran music critic admitted that not only the twenty-two notes but also the process of their creation had never before been established with such authority and clarity.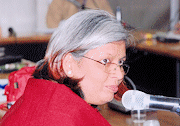 Later, some of the audience too confessed that though they could discern aurally if a vocalist went down a Shruti, the inter-relationship of notes at shruti level was never this clear. There was quite some demand for the flash presentations which illustrated the concept of Shadja Gram and ChatuhSarana. The participants were thrilled when they were informed that these presentations weere included on the compact disk released for the Conference.

Dr. Garg chaired the next session, again with three papers. Dr. Laxmi Ganesh Tewari, with over thirty five years of teaching in American universities, had some poignant views about important issues of Indian instruments that need to be studied scientifically. Shri Yusuf Mirajkar, a seventh generation instrument maker declared that it shall no longer be possible for us to hear the original sounds as getting adequate raw material is becoming difficult. The forest department has regulations to provide forest resources for traditional crafts, but not for commercial purposes. As indeed, making a musical instrument for the use of another person, technically, becomes a commercial activity, in reality it always remains a non-industrial artistic production.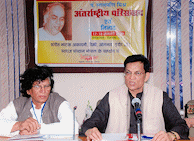 Mr. Mirajkar appealed to practitioners of Indian music that even vocalists would crave for a true Miraj Tanpura to sing with, unless steps equivalent to wild-life preservation or bio-conservation were taken to preserve and cultivate trees, plants etc. used for making musical instruments.

Presented with a small sitar when he was just four, Dr. Chandrakant Sardeshmukh was immediately accepted by Pandit Ravishankar when the maestro heard him playing at Sawai Gandharv festival three years later. As Pandit Ravishankar often had to travel abroad, he left the boy in care of his first wife, Vidushi Annapurna Devi. Dr. Sardeshmukh revealed the specialty of teaching techniques of the two. He is the sole common disciple between the two and thus his learning experience is unique. While Pandit ji taught by playing the notes on his Sitar, Ma rarely picked up the instrument, humming out notes for young Chandrakant to follow. Yet, both his Guru-s taught the same content and both stressed upon bringing out and bolstering his individuality, which very few of the modern teachers are capable of.
The last session for the first day promised to be equally enlightening with papers on design, study and contemplation of Indian musical instruments. Dr. Naval Krishna, Joint Director, Bharat Kala Bhawan, BHU was its chairperson. He introduced the speakers Sr. Dr. Margaret Bastin and Shri VedPrakash Sharma. Dr. Santosh Pathak could not reach in time to present his paper "Instrument: Uniting Body, Mind and Soul" which was graciously accepted as having been read. Dr. Bastin's paper dealt with ancient Stringed Instrument of Asia. As principal of a music college at Tiruchirapalli, she has spent quite her free time pondering over the development of various musical instruments. Form ancient as well as medieval text Dr. Bastin connected Yazh to the Greek Harp.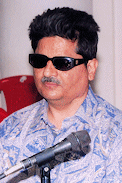 This same instrument has different name in Vedic texts. In southern part of India, Yazh evolved into several folk and art-music instruments. Details from paintings, sculptures and actual instruments made her presentation enchanting.

Ved Prakash Sharma teaches at Delhi and has discussed classification system for Indian music instruments with his students in detail. He quoted Dr. Lalmani Misra's views about the classical categorization of Indian instruments and while agreeing with the scholar suggested a modern information-based system on those lines. He submitted that because of computers, it is a lot easier to store and retrieve information and therefore a code-based classification may be developed which takes cognizance of all specifications of a particular instrument. Response to the argument was mixed but Dr. Naval Krishna treated this as a positive sign. He thanked all speakers and the audience for their involvement in the session.
So many ideas had come up during the day that the participants seemed reluctant to leave Swaraj Bhawan. However, after a brief stop at the hotel they reached Bharat Bhawan in time for the Ninad concerts. Dr. Lalmani Misra was a natural learner and as underwent various facts of music – as Dhrupad vocalist, instrumentalist, arranger, composer – his curiosity found other avenues like research, innovation and education. To illustrate his belief that a good musician is both, performer and an academic, Madhukali had planned to present recitals of participating scholars.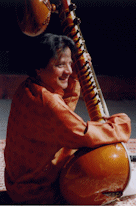 On 17th evening, Dr. Suneera Kasliwal was the first artiste. A modern Sitarist whose primary learning comes from an institution, Dr. Kasliwal completed her D.Mus. with Dr. Lalmani Misra and Dr. K., C. Gangrade at B.H.U. She continues exploring new avenues with Pt. Uma Shankar Mishra. She enraptured the audience with her rendition of Raga Palas Kafi. She is one of those players who can still maintain pensive pace to let the Raga bloom out by itself. Rahul Swarnkar accompanied her on Tabla. Dr. Saubhagyavardhan Brahaspati grew up in a family of stalwarts. He ingrained a natural flair for literature and music from his father, love for singing from his mother Vidushi Sulochana Brahaspati and trained with Aunt Vidushi Saryu Kalekar. His flawless rendering of Puriya was reminiscent of a style that is no longer heard. He chose a well known Kabir bhajan, "Moko Kahan Doondhe re Bande" and presented it in a deeply affecting manner. The vocalist was supported by Zamir Khan on harmonium and Sarwar Hussein on Sarangi. Bharat Bhawan is still an enchanting place and in almost every show there are some in the audience for whom the event in progress is a pleasant surprise. So, when the third artiste of evening was announced they were delighted. Though he has not performed extensively in India in the recent years, Dr. Chandrakant Sardeshmukh is still in memory of senior music enthusiasts who have followed his career ever since this boy-wonder was chosen by Pt. Ravishankar for his disciple. He selected Sindhu Bhairavi for recital this evening. On a website, a reviewer from West has remarked that 'his exotic music is very refreshing and a real delight'. To Indian ears too it sounds novel and yet this novelty does not undermine the Raga being performed. By his recital it was proved that his Guru-s had indeed supported and developed Dr. Chandrakant Sardeshmukh's individual style. Ram Swaroop Ratoniya provided a supportive accompaniment, which the Sitarist acknowledged by providing ample space to the percussionist.

Bhopal is undoubtedly a cultural centre with regular activities at Bharat Bhawan, Ravindra Bhawan and other locations. The number and enthusiasm of casual visitors as well as regular audience for the conference and Ninad concerts had been anticipated and thus a display of books, music and electronic musical instruments was arranged for their benefit.

On return the performers and scholars discussed various aspects of music over dinner and in some instances discussion were carried late into night. And yet everyone was in the conference room at Swaraj Bhawan by ten the next morning.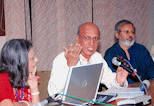 Dr. Mukesh Garg with pleasant witticism, welcomed the scholars and music enthusiasts in the audience and invited Smt. Radhika and Shri Rajnarain to present their paper, "Exploring Musical Creativity: Digital Veena". Radhika ji is an accomplished Veena player, giving regular performances both on stage and All India Radio. Her husband Shri G. Rajnarain, a musician-engineer by heritage is globally renowned for electronic reproduction of Indian music.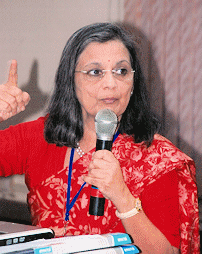 From the valve based drone he made for his own use and initial experimentation with design of Veena that could be worn like a guitar, his successful experimentation have resulted in a host of instruments to suit the needs of Indian musicians. Used primarily for accompaniment, a demand for electronic versions of primary or playable instruments is also coming up. As a Vainik, Radhika pointed out design flaws in the traditional instrument which Rajnarain rectified in the electronic version. The Digital Veena does away with all shortcomings giving free play to artiste's aesthetic instincts. Several of the scholars, string-players themselves, were moved by the capability of the electronic instrument, which through amplification has increased the sustenance manifolds, provides stable zero-error tuning and string-tension as required by the artiste. It has been designed for easy transportation. The video clips of Radhika playing Digital Veena demonstrated all this alluring all Veena and Sitar players.
If the traditional instrument designers felt a bit challenged, Dr. Ravi Sharma's research about Tumba-s brought relief that traditional instruments are still going to be in demand. But Dr. Sharma, Professor at M.D. University, Rohtak himself is not satisfied with the state of cultivation of gourds.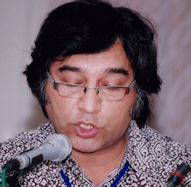 He pointed out the new methodology being used for maturing and preparation for use in instruments and stated that musicians should petition state and central governments for taking adequate steps for preservation of the vital craft of making musical instruments. Use of fiber yields acceptable result with almost no loss in tone, but in the end artificial material would destroy the complete bio-degradability and 'green-ness' of Indian musical instruments.
Prof. A C Choube, the third speaker in the first morning session acknowledged the presence of enthusiasts who had braved the cold to attend the sessions. His long experience with music education at several universities coupled with active performance grants him the authority which younger academicians might lack. Not only did he talk at length about the role of Tanpura and Sarangi in vocal music, but also shed light on controversy of using harmonium for accompaniment. Well understanding the distress his remarks might cause, he explained the inherent limitation of harmonium which is not conducive to positions of notes in Indian scale.
Dr. Kasliwal expressed agreement and mentioned attempts to rectify this shortcoming. When a member of the audience made an appeal that 'Father of electronic musical instruments' Mr. Rajnarain should think about making a suitable harmonium, he informed that it had been done eight years back. But the project of "Shruti Harmonium" had to be shelved because there were no takers. The inventor expressed his delight that at this gathering in Bhopal so many people were seriously concerned about purity of Indian notes. If ever people contacted Radel, he would make this available to them.
Dr. Garg thanked the three presenters and the audience whose lively participation might well have made this conference historical in affecting the future of musical instruments. For serious growth of Indian music, he opined, sincere attempts of musicians, craftsmen and innovators have to be rewarded by enthusiasts, society and governments. The instrument-maker serves the field as much as the innovative performer. Positive attempts at inclusion mark true progress; the work of music-researchers like Shri Rajnarain whose innovations secure purity should be publicly acclaimed. General consensus regarding Dr. Garg's remarks slowly turned into intense discussions on various aspects as people formed their own groups at tea-break.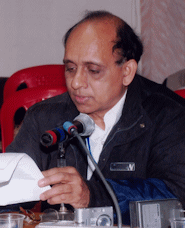 The impact of the earlier papers was still there as Dr. Sanjoy Bandopadhyaya introduced the speakers for the next session. Dr. Naval Krishna belongs to third generation of art-historians and critics. His book The Ananda-Van of Indian Art (2004) is well known for its modern views on Indian Art. Through his paper, "Krishna's Flute in Early Indian Art & Literature – A Reappraisal" he presented several curious points regarding the music, structure and significance of flute. By citing various instances, he submitted that Krishna played his flute in Avarohi or descending order to invite friends and Gopi-s. In Indian art the way Krishna holds his flute is quite symbolic. For generations it has inspired musicians; it is only in the past decade or so that one comes across fewer flute-players. Dr. Krishna's use of Ragamala paintings, coins, sculptures etc. along with comparisons made for interesting presentation. Dr. Bandopadhyaya, Prof. Choube and flautist Shri Rajanarain contributed with their inputs.
Perhaps no one but Dr. Bandopadhyaya had found time to go through the resource material given to participants in detail. He introduced the next speaker with warmth and soon as Terence Tuhinanshu began to unfold his presentation "Typographic Digitization of Indian Musical Notes" he had the attention of everyone in the conference hall.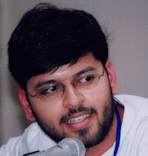 Some of the scholars, either through their participation in Madhukali-Omenad Symposium held in December 2007 or through surfing omenad website, could recognize the symbols for musical notation designed for use on computers, but many in the audience were learning this possibility for the first time. The speaker explained how through the software he has developed, all kinds of existing Bhatkhande or Paluskar notation can be written through minimum key-strokes. It is possible to signify Meend, Ghasit, Krintan etc. with Ome Meend. Dr. Mukesh Garg, whose family has been bringing out the sole Indian journal to be published continually for 75 years – Sangeet – queried the speaker on difficult combinations and expressing his total satisfaction, remarked that this software will reshape Indian music publishing. On learning that the Conference CD contains a sampler of this software, many in the audience started wondering how they could get hold of the software. They were informed that soon this would be available on omenad website.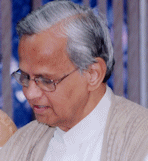 Dr. Kiran Deshpande is one the most sought after Tabla virtuoso whose craft and skill has been inherited by son Supreet Deshpande. His natural bent for philosophy made him add 'Measurement of Musical Time' to his intended paper on 'Development of Percussion'. Having accompanied the best, Dr. Dehspande could almost hear within beats the direction a composition was destined to take. Indian rhythms are in themselves quite complex but when notes attain complete blending, a subtle pattern rises out just like the trapped light moving sometime with and at other, opposed to the rotation of a wheel or fan. The senior academician forwarded many suggestions by which sound and stability of Tabla can be improved. True to his instrument, he confessed that even without the suggested changes Tabla was in quite a developed form compared to several other instruments.

The post lunch session was chaired by Prof. Amaresh Chandra Choube, Retd. Dean & Professor, Music University, Khairagarh. Pt. Omprakash Chourasiya, due to ill-health was unable to read out his paper, "Sarangi: Structural Complexity & Learning Curve" so the chairperson, in consensus declared it as having been read. He then invited Dr. SaubhagyaVardhan, Professor of Vocal Music, Chandigarh to present his paper on "Contribution of Rampur School to Indian Music". He has first hand contact with artistes of this tradition (Acharya Brahaspati never referred to them as school or gharana ) and commented upon incidents that made history. In one way Rampur is the seat of modern instrumental tradition as Ustad Allauddin Khan stayed there to learn from Vazir Khan, the last in direct lineage of Tansen, during his final days.
Professor Suneera Kasliwal has been working on musical instruments for quite some time. She has coordinated many an exhibition for Ministry of Culture, Sangeet Natak Academy etc. Herself a Sitar virtuoso, her book Musical Instruments of India published by Rupa, acquaints one with Indian musical instruments broadly.

Starting with absolute agreement about scale system of harmonium being inadequate for Indian music, she pointed out that various people have experimented with its design to minimize the discord. The experimentation extends to guitar which has been modified 'not only on its upper visible surface like addition of strings and Tarab strings but also from inside which includes various types of struts and wooden arrangements'. Experimentations started at minor level like change of plectrum and playing position and went all the way up to major ones resulting in change of tonal quality. She pointed out that in the recent decades many more western instruments have been brought to Indian music, e.g. Saxophone by Kadri Gopalnath, mandolin by U. Sriniwas etc. So long as sanctity of Indian music system is held supreme and the non-Indian instruments modified to play it with integrity, there is little threat to our ancient heritage. She referred to Dr. Misra's invention of Shruti Veena as creation of a light-house which brings home all ships safely to shore.
The final session of the day was to be chaired by Dr. Ravi Sharma (now, a Professor with IGNOU) but with consent of the presenters in the session, Dr. Sudha Dixit, Dr. Richa Pande etc., it was converted into an open house wherein the conference was turned into a colloquium. Ideas were freely interchanged – ranging from design of Jal tarang to Shruti harmonium and to a digital Sitar.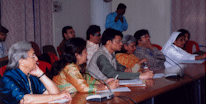 At the end it was resolved that through aid of government and non-government agencies academies should be started which employing present-day craftsmen may keep the art of instrument making alive. It was also resolved that a petition should be made to all concerned for easy access of essential raw material to instrument makers.
On the second evening of Ninad concerts, the participants were more relaxed as the objective of the conference had been fulfilled, even if only the first step. As it was a Sunday evening Bharat Bhawan was completely filled when the concerts started at 6:30 pm. Virtuoso Kiran Deshpande had aimed to present a jugalbandi but later decided the son Supreet should have a free hand. Visibly relieved Supreet displaying traditional learning launched quickly into showmanship that always has been hallmark of Tabla artistes. Soon the audience were in rapture responding to his deft fingers.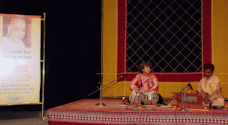 The usual nay-sayers waited quietly for the next performance. Prof. Sanjoy Bandopadhyaya has learned Sitar in the traditional way as well as in institution. Heading the Alauddin Khan Chair at Rabindra Bharati University, Sanjoy has made a name for himself in a city of Sitar players. He presented Raga Puriya Kalyan and later a composition in Hamir. Although there was no dearth of flourishes, his Sitar sounded serene and melodious. Ram Swaroop Ratonia's Tabla accompaniment maintained the effect the artiste intended.
The final presentation of the two-day Ninad concerts was by Dr. Laxmi Ganesh Tewari, amongst the first disciples of Dr. Lalmani Misra. Following in the footsteps of his mentor who was a visiting faculty in many universities, he settled down to teach at Sonoma State University.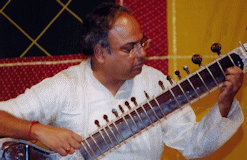 During the course of one such visit, he learned Dr. Misra's composition created to preserve the Samic notes, Sameshwari. He is the first artiste to perform this Raga and therefore it was a rare treat to listen to Dr. Tewari sing his mentor's creation. He followed with another of Dr. Misra's Raga-s, Madhukali on the request of his friend and co-disciple, Director of Madhukali Pt. Ompraksh Chouraisya. A collective nostalgia could be sensed as there were many in the audience who had heard or seen Dr. Lalmani Misra perform. He brought the evening to a close with a Bhajan the stalwart had composed for his famous opera, Meera. Prof. Kiran Deshpande's Tabla accompaniment was steady and soft. Sarwar Hussein is an accomplished Sarangi player whose strokes are confident even as he learns a new Raga. Zamir Khan was equally fluid on harmonium giving swing to the vocalist's mood.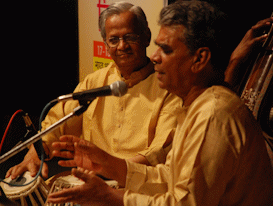 Browse books on Omenad Shop
Academic Conventions
International Conference Jan 2009
'Africa Meets Asia' -- International Conference
"Music in Perspective of Globalization" Delhi March 2009
Other Concerts :
4th Brahaspati Sangeet Samaroh at Chandigarh
Reviews
Ilyas Khan. Sitar
Devotion. Sitar
Meditative Morn. Santoor
Artistes of Indore