Akademi Music

Ilyas Khan: Pacing up Strings

By Dr. Ragini Trivedi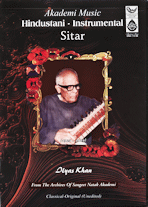 Akademi Music: Hindustani instrumental - SITAR
ARTISTE: ILYAS KHAN, TABLA: SAMTA PRASAD
PUBLISHER: Sangeet Natak Akademi [2008]
Raga Chhayanat (1956) 43:00
Raga Kafi (1956) 15.15


So often had the role of Archival agencies been pointed out in preserving heritage music without any reaction that one began doubting wisdom of the dictum. A bureaucracy that admits no error double-checks each action at every step; this may cause some delay but the end result is presumed to be largely beneficial. It was better than that in case of Sangeet Natak Akademi. This prestigious national institution has a rich and priceless collection of music in its archive collected over half a century.
The present volume released in June 2008 carries two pieces by Ustad Ilyas Khan. Born in a musically endowed family of Lucknow, Ilyas Khan was influenced by several artistes performing on different instruments. He was much impressed by Inayat Khan's Sitar. Inayat Khan's father Ustad Imdad Khan had shifted from Sarangi to Sitar giving a new sound to the instrument. Retaining this melodious aspect, Ilyas Khan contributed by speeding up the pace. It was this aspect which influenced other Sitar players like Ustad Vilayat Khan who further enhanced the pace to give Sitar its present supremacy as a versatile instrument. Despite well-paced rendition Ilyas Khan never moved away from Dhrupad Ang, but one can easily treat him as a precursor to later sitarists playing from Khyal-Thumri Ang. It is a mark of his genius that his fluid meend work belies the limitation of Sitar.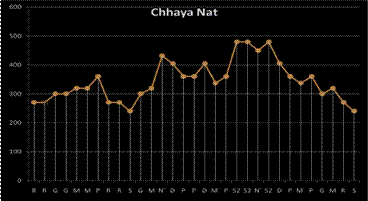 In rendering Chhayanat -- a complex Raga of Kalyan ang -- it is the power of the style he developed, which accommodates the Raga with efficient beauty. He is fully competent in presenting the interplay of notes between the upper and lower tetrachord that establish the Raga. It is always a matter of chance how and when one's talent gets recognized. Ilyas Khan was well recognized amongst musicians even if he was not a household name to common people. In a period when maestros like Pt. Ravishankar and Ustad Vilayat Khan were experimenting to find a personal style, Ustad Ilyas Khan had formed his own and followed it faithfully. It can but be surmised that aesthetic sensibility of Ilyas Khan must have influenced his contemporaries. The present recording gives weight to such hypothesis. His Taan-s are fast but flighty; they touch the notes so that the Raga is always in picture but it was almost a generation later that clarity of notes during Taan-s became hallmark of a good Sitar player. Pt. Samta Prasad too is his usual self; artiste of an age where technique was subservient to aesthetic pleasure. He is not a detached player with mechanical accompaniment finding way into a self-centred frenzy. He plays with Ilyas Khan all the way, estimating unerringly each stroke and responding to it with same joy and abandonment.
It comes as welcome surprise that Sangeet Natak Akademi has not limited itself to carrying out a task dutifully. The artistic packaging of heritage music has instant appeal. Not only is the cover well designed, the compact disc fits perfectly in its groove and diagonally placed finger-pits make it easy to lift the disk.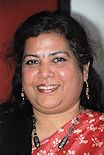 The inside cover carries short but precise note about the recording and back cover indicates the Raga-s and their duration. It is evident that the original recording was not made in a studio but captured live a concert given in the open at Convention Club. Five decades later some deterioration in the magnetic tape must have further undermined the quality. Thanks to the technical acumen of SNA, the recording has been restored pretty well. Apart from a few places where Tabla drowns the Sitar, perhaps because removal of noise lowers the Sitar volume, the recording reproduces with fidelity the tonal quality of sitar and strokes of the artiste. The student and connoisseur alike would benefit from this production. Credit is also due to Suneera Kasliwal who as Advisor has been successful in presenting a volume that brings to light an important link in the development of Indian music.
The only thing one can desire is that to celebrate its success in bringing the past alive, Sangeet Natak Akademi provides exhaustive notes about the artiste and contents of these volumes on its website.
---
Links :
Bharatiya Sangeet Vadya on wikipedia
Indian Classic Music & Gharana Tradition
Bhāratīya Shāstrīya Sangīt: Shāstra, Shikshan Va Prayōg
List of books on music.
Musical tracks.
Annotated compositions.
Review of Pure Joy Sitar.
Reveiw of Devotion Sitar.
Reveiew of Meditative Morn Santoor