| | |
| --- | --- |
| A treat of beats | |
| By T. Tuhinanshu | |
In a musical family which gained renown as Kampoowale after having migrated from Maharashtra to Gwalior in early eighteenth century, Ulhas was born to Smt. Sushila and Shri Keshavrao Rajhans in 1961. Having learnt the intricacies of Khayal in Gwalior tradition from stalwart Padmabhushan Pt. Krishnarao Pandit, Keshavrao had already initiated his elder son Subhash into singing. His quest for greater musical accomplishment took him to Nagpur where willing pupils flocked to him. To toddler Ulhas, music and its intense practice came as natural backdrop to life. How many of us have been privileged enough to grow up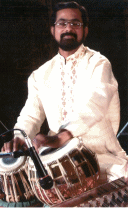 amongst musical sounds, successfully shielded from harsh cacophony of life?
A desire for peer appreciation drew Ulhas to Tabla. While keeping with his father's wishes, Ulhas was learning vocal music, the innate versatility made him try his hand on tabla which made him a natural ally to elder brother. Thus, along with father Keshavrao Rajhans, his brother Subhash Rajhans too became his early guru. Impressed with young Ulhas' competence, his father decided to approach Ustad Latif Ahmed Khan for his younger son's education.
Learning with Ustad Latif Ahmed Khan, Ulhas realized that importance of accompaniment was no way lesser than solo performance. He learnt how with vintage phrases, spontaneous creativity increased the appeal of a presentation. Proximity to a celebrated teacher coupled with his innovation and zeal earned him a number of prestigious accompaniment assignments. He gradually mastered such a style that vocalists and instrumentalists appreciate his accompaniment alike. He has performed with Pandit Rajshekhar Mansur, Pandit Rajan-Sajan Mishra, Pandit Jasraj, Singh Bandhu, Pandit Pratapnarayan, Ms Kankana Banerjee, Vani Jayaram, Pt. Budhaditya Mukherjee,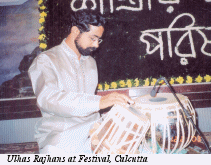 Dr. Chandrakant Sardeshmukh etc. Danseuse Manjushri Banerjee encouraged Ulhas to to take up challenge of dance accompaniment. Most artistes visiting Madhya Pradesh finalize their performance when they learn that Ulhas Rajhans shall provide tabla accompaniment. Even the demanding artistes are satisfied with quality of his accompaniment. Misrabani exponent Dr. Ragini Trivedi plays compositions based on Jhoomra and Vilambit Jhaptal; Ulhas has given her no cause for complaint. Artistes performing with him after a long interval never cease to be delighted with his accurate and cooperative accompaniment.
One of the reasons of Ulhas' success story is that he accepted his appointment as staff artiste in All india Radio. It provided him an opportunity of studying and understanding all kinds of artistes, from light-vocalists to instrumentalists, from novices to stalwarts, from happy-go-lucky ones to tight-lipped demanding performers. The job also allowed him to be in constant touch with his art. There is a huge demand from keen youngsters, but coping with his busy schedule of recordings and performances leaves him with space for just one or two pupils at a time. With music in his veins, he considers teaching a noble activity, the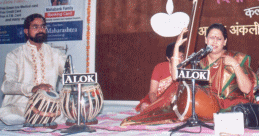 sanctity of which must be maintained at all cost. But Ulhas also plays for fun. Often his friends from Akashvani and other artistes meet one person's houe along with their instruments; Ulhas too joins in fun-marathon playing for hours on end. He says "Playing without audience for each other improves our skill and gives pleasure too."
His son Vibhas and wife Gauri understand the pressures on an artiste; probably in response to his gentle attitude and good humour never complain and take pride in his achievements. Young Vibhas has already displayed his inherited talent, but for the moment gives prominence to immediate studies. It is on account of a loving and supportive family that Ulhas has been able to go on long tours, performing in various cities and towns of Maldives, America and England. Within the country there is hardly a known platform where Ulhas has not captivated the heart of audience. Asked, if he has been amply rewarded for his efforts, he gently smiles, "Art is its own reward."
click here to contact Ulhas Rajhans.