| | |
| --- | --- |
| Ustad Abid Hussain Khan: The Maestro par Excellence | |
| By Roop Narayan Dixit | |
Roop Narayan Dixit is a retired professor of English who became a Ganda-baddh disciple of Ustad Abid Hussain Khan in 1963
Memories of the great masters of Indian Classical music, who once upon a time actually took the audience by storm, come like trailing clouds from the blue. Yet their performance continued to soothe the hearts of the lovers of music – connoisseurs as well as dilettantes. Among the past masters was one such – Late Ustad Abid Hussain Khan of Indore, who hailed from Baroda and the court of the erstwhile state of the Nawab of Jinjira but had settled down at Indore during forties and fifties of the last century.
Born in 1907 this grandson of Raza Ali Beenkar1 was an accomplished vocalist and also a Beenkar (a Rudra-Veena player). He traced his musical heritage from Shri Mishri Singh Rajput of Jaipur who once accompanied Miyan Tansen on Rudra Veena before emperor Akbar. As a child, Abid Hussain Khan had been initiated in music by father Late Ustad Jamaluddin Khan of Bidar state during the twenties and thirties of last century.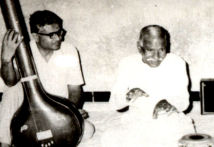 In prime of his youth, he became the court-musician of the Nawab of Jinjira, a Muslim state in the coastal area of Maharashtra where he lived in a cottage facing the rolling waves of the Arabian Sea. Perhaps the resonance of his voice, and his own style of Alap and taking Taans reflecting the elegance and grace of an ocean, was due to this.
A versatile genius, Ustad Abid Hussain Khan could sing Dhrupad and Dhamar, Khayal, Tarana, Tappa with competence. His singing enamoured the audience while reaching rare heights. The manner of Alap came to be recognized as Bidar ang with its distinctive development by gliding from Mandra Saptak to pause at Shadja and gradually ascending toward Madhya Saptak where he stayed considerably. The swara-s he applied were graced with nuances (Kana) and Meend. After a relaxed immersion in the lower and middle octaves, Khan Saheb touched the Tar Saptak, yet plunging back to Mandra and Madhya at times. The Alap in Dhrupad and Dhamar was given ample time to establish notes and relationships. The Alap done in a pleasing and interesting manner, it never tired the patience of the audience. His pronunciations established his Dhrupad lineage from Khandarbani explaining his use of Nom Tom for alap.
When he sang a Khayal or Tarana his Alap was brief, yet he continued to be dynamic and graceful in compositions; in Bol-s and Bol-taan-s, he applied Gamak with force of thunder and lightning. In his Tan-s he was equally graceful, elegant and forceful.
Not only the style but his very persona underwent a change when he sang a Thumri, a Dadara or Hori. Invariably each performance was totally subjective and its intense intimacy touched the hearts of each member of the audience.
Khan Saheb preferred common and well-known Raga-s in his concerts. Mostly, the Raga-s were Bilawal, Malhar, Todi, Malkauns, Megh, Darbari, Kaphi and Chhayanat. His compositions were mostly in Teen-tal, Tilwada, Jhoomara and Ada Chautal. He also gave a few memorable concerts singing less common Raga-s like Barwa, Khat, Durga, Shankara and Jhinjhoti.
Shri Vimal Mukherji (Sitar-player), chief among his illustrious disciples is the foremost representative of the Gharana. His prominent representative for vocal style is Bhavyanand Bhatt of Indore who has retained the charm and uniqueness of His Ustad's Khandarbani style. His accompanists were Late ustad Alladiya Khan in Sarangi, Pt. Ambadas Agle Pant on Pakhawaj and Ustad Dhulji Khan on Tabla. Among the living generation, Ustad Moinuddin Khan had accompanied him on Sarangi and Ustad Yusuf Khan on Tabla.
---
Reference:
[1] Eminent Artistes of Yester Years. Mehta, R.C. Baroda, 2007. p. 4
---
Articles of Interest
Nestling Among Honey-buds -- A short note on Dr .Lalmani Misra
Contemporary Problems for Indian Music