Swar Shati:

'Mama Saheb memorial' at Indore

By Dr. Rajiv Trivedi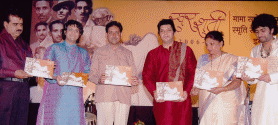 Indore, a city known also for its musicians, has been able to retain its love for art and culture despite its metamorphosis as the commercial hub of Madhya Pradesh. Along with a few music functions supported by government bodies, local cultural organizations have helped keep the tradition of music and dance alive in this changing town. Youngest daughter of Mama Saheb Muzumdar, an engineer by profession but known for his soulful singing, Kalpana Zokarkar decided to keep the memory of her father alive by organizing an annual commemorative festival in Indore. It all started in 1992 when with the help of her brother-in-law, Ajay Pohankar could enchant the audience by bringing together such stalwarts as Ustad Shahid Parvez, Pandit Brajnarayan, Pt. Ajay Pohankar, Smt. Malini Rajurkar and Smt. Vasundhara Komkali.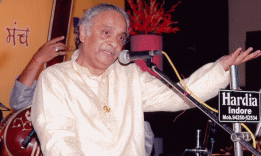 The fifteenth memorial celebrations were a series of musical events spread throughout 2006 and 2007 on the hundredth anniversary of his birth.1
These events were called Swar-Shati. In December 2006 the festival started with violin recital of Dr. Ramesh Tagade. He presented Bhupali and later a Dhun, accompanied by son Anurag on Violin and Hitendra Dikshit on Tabla. Dr. Ram Deshpande was keenly awaited as he would be singing before the Indore audience for the first time. His presentation of a rare type of Kedar -- Maluha Kedar -- was highly appreciated. This evening Raga belongs to Kalyan Ang with a typical Kamod movement -- G M P, G M R S. His other choice for the evening was almost an opposite -- Sohni. Ulhas Rajhans, as always enhanced the performance by his skillful accompaniment on Tabla. A workshop too was organized, attended by twenty students and young performers. Dr. Deshpande acquainted them with exercises for voice-culture.
On 15th February 2007, Kalpana Zokarkar offered homage to her father and Guru with composition in Maru-Bihag and Tappa. Pt. Bhavani Shankar's Pakhavaj was the second item that evening, followed by Tabla solo of Pt. Vijay Ghate. Farooq Latif accompanied them for lehara on Sarangi.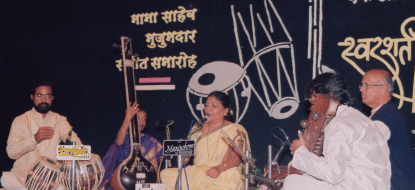 Though stalwarts and known artistes draw listening public to programmes of Indian Classical music, it is the local artistes who reflect the cultural environ of any place. Swar Shati invited several of the local artistes to present their art in May 2007. Along with senior artistes like Dr. Shashikant Tambe, Smt. Shubhada Marathe, Shri Sunil Masurkar comparatively younger artistes like Shri Sudhakar Devle, Smt. Kalyani Kanade, Shri Farooq Latif and Shri Gautam Kale gave recitals.
September was a month when the sky is clear and music performances are about to be reconvened. A workshop was organized for almost thirty novices and performers. Dr. Sandhya Kathvate conducted this workshop on "Semi-classical Music".
The closing event for Swar Shati was held in November 2007. Audience arrived well in time to listen to Piyu Sarkhel. She presented Raga Puriya Kalyan followed by a composition in Jan Sammohini. One of the rising stars, Piyu's voice control is matched by her understanding of the audience. Pt. Prabhakar Karekar's rendering of Chadrakauns of Bageshri Ang appealed to veteran listeners. On the second evening the audience listened to a unique Jugalbandi. Abhijit Pohankar on synthesizer and Rakesh Chourasiya on flute tried to offer a new dimension to collaborative music a la "Call of the Valley" with playful compositions in Yaman and Pahadi, but then unless innovative flights of imaginative artistes are handled by a competent sound engineer in a recording studio, the sound of softer Indian instruments can never fuse with fixed notes of a keyboard.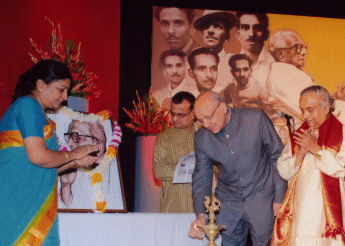 Pt. Ajay Pohankar who completed his sixtieth year, was felicitated on this occasion. As a tribute to his illustrious father-in-law he presented a recital in Gorakh Kalyan, a Raga which has been vicariously performed by modern vocalists, hinting at mystery caused more by ignorance than by design. Dr. Lalmani Misra had demonstrated the mysterious element time and again. When following Moorchhana the Nishad (komal) prohibited in ascension is treated as Shadja, Kalyan becomes visible. However, the smooth and elegant voice of Pt. Pohankar pleases all by itself.
Pt. Govind Potghan, a vocalist by training has toured throughout the country to provide harmonium accompaniment to many a senior artistes. Though his presence in Indore tends to be ubiquitous, the vocalists vie with each other for Pt. Potghan. Vivek Bansod is an equally proficient accompanist. The grandson of Sarangi maestro Late Ustad Abdul Lateef Khan (Padmashri), Sarwar Hussain does travel down to Indore from his hometown Bhopal. Under the supervision of his grandfather he has learnt enough to become a torch-bearer at later date.
Mama Saheb apart from his deep knowledge, training several vocalists, developing a modern singing style is remembered far more for his role in helping Pt. Kumar Gandharva during the days when the singer had lost his voice due to tuberculosis. In 1948 he brought Pt. Gandharva to his house in Dewas from Bombay and cared for him as younger brother. Gradually the recuperating artiste gained enough confidence to sing and once after he had been singing various Raga-s with Mama Saheb for eight days, he hit upon a unique manner of presentation that brought him renown.
---
1 List of performing Artistes at Mama Saheb Muzumdar Festival
1992

Ustad Shahid Parvez, Pandit Brajnarayan, Pt. Ajay Pohankar, Smt. Malini Rajurkar Smt. Vasundhara Komkali

1993
Smt Shobha Gurtu, Pt Balasaheb Poonchwale, Shri Kamal Kamle, Smt Kalpana Zokarkar
1994
Pt. Shiv Kumar Sharma, Shri Sanjeev Abhayankar , Shri Vyankatesh Godmindi,

Pt. Ajay Pohankar

1995
Smt Shubha Mudgal , Pt. Devbrat Choudhary, Sushri Chitrangana Agle
1996
Pt. Vishwamohan Bhatt , Smt Padma Talwalkar
1997
Shri Shrikant Deshpande , Sushri Kala Ramnath
1998
Smt Veena Sahasrabuddhe , Abhijit Pohankar
1999
Ustad Shahid Parvez , Smt Ashwini Bhide Deshpande
2000
Pt. Gokulotsav Maharaj , Shri Tarun Bhattacharya
2001
Pt. Ronu Majumdar,

Pt. Ajay Pohankar, Smt. Malini Rajurkar

2002
Smt Arti Anklikar
2003
Shri Kaivalya Kumar , Shri Neeladri Kumar
2004
Shri Raghunandan Panshikar, Ustad Moinuddin Khan
2005
Shri Pushkar Lele, Shri Arun Morone
Other Concerts :
Sangeetotsav at Bhopal -- Dr. Rajiv Trivedi
4th Brahaspati Sangeet Samaroh at Chandigarh
Artistes of Indore