Prathama:

4th Brahaspati Sangeet Samaroh at Chandigarh

By Dr. Rajiv Trivedi

In a land whose first philosophical tenet was according respect to elders, the hollowness behind felicitations and award ceremonies has begun to prophecy an outright rejection of sacred in favour of gross and the profane. Such a scenario directed by economic liberalisation and info-riddled world makes it a rare occasion when sincere
respects and homage is paid to a sage. Acharya K C D Brahaspati reperesents the golden phase of Indian music scholarship. Among the half dozen modern music scholars, he helped denounce myths and half-truths that derailed study and practice of Indian classical music. Born in the family of scholars who were granted a place of honour in Rampur copurt, he had acquired, a great knowledge in the Vocal, Pakhawaj, Been and Tabla. With his unique command on Sanskrit language, Urdu, Persian, English and Music, he had become a distinguished personality at Rampur. His translation of Quran is considered the authentic version in Hindi. His Guru, Saiyad Mirza Nawab Hussain was impressed equally by his grasp and diligence.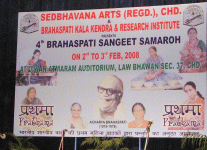 Noted singer Vidushi Saryu Kalekar initiated a memorial festival some years back where artistes could come to illustrate one particular aspect of Indian classical music. She encouraged sister Sulochana Brahaspati and nephew Soubhagya Vardhan to hold this function as often as possible. The 4th memorial concert held at Diwan Atmaram Auditorium, Law Bhawan, Chandigarh on 3rd and 4th February 2008 focused on path-breaking women players. As all invited artistes were first in their respective fields, this function was appropriately named, Prathama. Dr. Saubhagyavardhan confides, "My father often used to talk about encouragement of women in the field of music. When I visited Bhopal in December 2006 as an observer for Prathama function organised by Madhukali and Manav Sangrahalaya, Bhopal I decided that this concept needs consolidation. It is a marvel to listen to these first ladies who have perfected their art to full. Our patron and guide Ms. K Atmaram encouraged me to deicate the fourth memorial festival to this cause. I wanted Chandigarh to be the first city to give strength to the idea of Prathama women artistes, which I'm sure rest of the nation and world will follow."
Acharya Brahaspati's wife Sulochana Brahaspati (conferred the Uttar Pradesh Sangeet Natak Academy Award in 1984, the Sangeet Natak Academy Award in 1994 and Tansen Samman in 2006) had personally known many of these women artistes or their mentors; so almost all of these ladies felt it was like homecoming. Brahaspati Kala Kendra and Research Centre in collaboration with Sedbhavan Arts organised the event in its inimitable manner. Their care in selection of the venue for event was clearly reflected as the artistes from different states were together throughout the festival with lodging, boarding and stage in a single building.
Smt. Ram Mohan Rao the first women performer of Mridangam travelled all the way from Vijaywada to a chilly Chandigarh. Sushri Sukanya Ramgopal, the Ghatam Prathma based in Bangalore brought three more women artistes for accompaniment.

S.V. Madhuri was her flautist while Ms. Vijaylakshmi charmed the audience by her adept handling of Morchhang (morsing). Dr. Ragini Trivedi nervously transported her sixty year old china bowls from Indore -- "I had heard Chandigarh had touched zero, so wondered how shall I tune them if water freezes; it shall become ice-tarnag instead of jal-tarang." Smita Shende Reddy had already caught cold in her native Ujjain and had almost planned not to travel. Her husband Mahendra encouraged her to carry on as they would be traveling in same train with Dr. Trivedi. Dr. Kamla Shankar had come to present a recital on her Shankar Guitar, accompanied by husband Rajeev Janardan and Tabla accompanist, Vinod Lele.
This being the first function of its kind, the citizens flocked to the auditorium well in time despite a chill in the whether. Ms. Mriganayani Pande, compere for the show, welcomed them all and invited the first mayor of Chandigarh, Mrs. Kamla Sharma to light the traditional lamp. The organisation also felicitated Ms Chandra Khosla and Mrs. Shubha Kauser for their memorable role in making classical music and dance accessible to young learners in Chandigarh. This two-day convention of women performers came as a blessing to aficionados and music scholars who travelled from neighbouring towns like Jalandhar, Ludhiana and Patiala.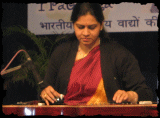 A young listener commented that after Harivallabh this (Brahaspati Sangeet Sammelan) was the only place where one could listen to chaste music.
The first presentation of the opening day started with guitar recital of Kamla Shankar. She explored Raga Yaman, using her specially designed guitar to unravel Raga nuances. Vinod Lele, in his practices manner provided cooperative support to main artiste who in turn took time for spontaneous creativity by allowing him to play captivating pieces on Tabla. The audience swayed by a polished performance watched in amazement as ghada-s (earthen vessels) one after other were brought on stage. Many of them had never imagined that the ubiquitous drinking pot can be used in a classical performance.

(Next morning, a railway porter on being told to handle these Ghatam-s gently innocently inquired if the ghada-s were not available in south.) Once the Ghatam Prathama, Sukanya had arranged them to her satisfaction, the recital started. Initially Madhuri introduced the melody on her flute to which Ghatam, Mridangam and Morchhang responded. As the group moved from one piece to other, the pace, intensity and heart-beat of the enthusiasts increased. By the time the climax peiece was renedered even the composed were swaying to the rhythm. While some left quietly, there were several in the audience who gathered round the stage to converse with the artistes. Many young students expressed their wish to learn these instruments and pleaded for for personal or institutional addresses.
The slight drizzle on sunday made it chillier, but Chandigarh had warmed to women artistes and so the second day of the festival too attracted die-hard listeners.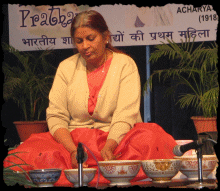 When his wife refused to brave the cold, a retired civil servant drove alone to Law Bhawan, against his better caution. He joyfully welcomed known faces in the auditorium and finally settled down with another lone enthusiast. Once again the artistes for the day were greeted. The water in jal-tarang bowls luckily retained its liquid form and was soon tuned to satisfaction of the artiste. Dr. Ragini Trivedi, before starting with ther recital took tow minutes to pay her homage to Acharya ji and highlighted the state of music, its education, the challenges before music proponants and the opportunities available to young music learners. She acknowledged the fact that while the name of Jaltarang was stranger to none, it was seldom heard and rarely performed. As jaltarang technique involves rhytmic manipulation of notes, there are several approaches to its performance. Being primarily a string-player she was emulating Gatkari used in Sitar with Tan-s when she played Shuddh Kalyan. For Mahmood Khan to accompany jaltarang was a novel experience but largely he seemed to provide a quiet, colloborative accompaniment.
Several amongst the audience had heard Mridangam accompany Sukanya Ramgopal on Saturday but no one was ready for the thunderous performance that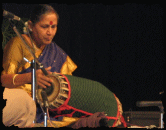 Smt. Ram Mohan Rao gave on Sunday. Despite the cold that affected the violin strings of her accompanist, her fingers magically shooed it away first from her own instrument then from the auditorium itself. The atmosphere was charged and it was only late hour and another performance that kept the audience from requesting Smt. Rao to keep playing. And indeed when the demure Smita took her position many thought that sound of mridangam would remain and flute would hardly be heard. the deep notes Durga dispelled their fear. The lowered temperature had done little to improve her cold but warmth of people had touched her soul. The mellifluous sound she drew from the long bamboo flute mesmerized all present. Mahendra Reddy provided her accompaniment on flute while Mahmood Khan matched the mood with his gentle accompaniment on Tabla.
The programme ended with Dr. Saubhagyavardhan promising the audience more Prathama artistes in future. It was a festival that warmed the music lovers of Chandigarh.
Tribune: Report
---

Academic Conventions
International Conference Jan 2009
'Africa Meets Asia' -- International Conference
Other Concerts: