| | |
| --- | --- |
| Lips in Unison: Airy Notes | |
| By Rajiv Trivedi | |
Amazing how often lives float like notes of melody struck by an invisible musician. One enjoys or suffers but is unable to convey one's response to the enchantment woven by the unseen flautist. Smita grew up in a family of artistic orientation. Her father Ramdeo Shende, a Professor of Geology had mastered Tabla with students of both diciplines vying with each other for his attention. He was in Nagpur during seventies when Smita was born. Mother Jyotirmayee was overjoyed; she could now teach her art to the little one. She sang first simple combinations of notes and as the baby grew up quizzed the daughter with complex ones. Rajeev Lochan, Smita's brother followed his father's footsteps learning first Tabla and later taking up Jaltarang. Both children inherited the art of compostion from mother who even now composes Sai bhajan-s.
The family had shifted to Ujjain meanwhile and Smita studied music as part of her formal studies earning a masters in Flute from Khairagarh university.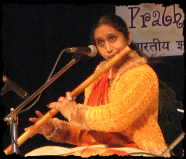 She had been initiated into flute by Mr. Paranjape at Ujjain and had the opportunity to learn with Mr. Garud at Indore. She was encouraged by well-wishers to move to Mumbai and there she came in contact with Shri Malhar Prasad Kulkarni. It was her talent that drew attnetion of such a stalwart as Pt. Hari Prasad Chourasiya. His gudiance proved immensely fruitful for this slender girl who was later to be exalted as the first lady of flute in the northern style.
Among the several disciples of Pt. Hari Prasad Chourasiya was a rebel who had left comfort of family and lure of career just to follow his heart. Enamoured by sound in a household that was allergic to music Mahendra was third son in a family of four brothers. K. Laxma Reddy, Mahendra's father, belonged to a family of engineers and entrepreneurs. An electrical engineer himself, he was supported by wife Andalu in making children tread the path of diligent studies. While all other children dutifully excelled in studies and opted for career in engineering or business, Mahendra could not pull himself away from the eterenally present music played by some invisible magician.
Spending as much time in presence of music and musicians whenever he could steal himself away from the stern discipline,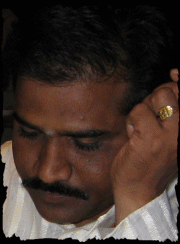 Mahendra still had no clue about a way to ease his inner urge. He had no information about the formal courses in music and earned his masters in English literature. Later he also did a course in Sound engineering satisfying parental ego on one hand while doing something that interested him. It was while visiting his friend's house that he heard friend's elder brother play on flute. Mahendra heard the notes of destiny. He learnt that in the town of his birth, Warangal itself there were institutions that taught music. He was directed to Meera Sangeet Mandir where a railway employee in his spare time gave lessons in vocal, tabla, sitar and flute. E.E. Sambiah thus became the first guru of Mahendra Reddy, initiating him in the tender art of flute-playing. This instrument has appeals even to those with little inclination for music being associated with lord Krishna.
When Mahendra left home in 1993, his parents were certain that the penniless young rebel shall come back home soon. Mahendra supported himself by taking up the job of a night receptionist in a nursing home. Soon he started attracting young pupils. He could now think of learning flute from the meastro himself. Sure of his ability to survive on his own he joined the Bombay university to get a diplome in sound engineering. He gave concerts at Taj for almost six years. He also served as an Assistant Sound Engineer at Pan Studio.
They say opposites attract. However, there should be common point for them to become compatible. Flute was the breath of life for both Smita and Mahendra.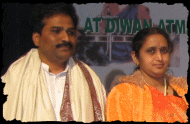 They sought the blessings of their Guru before proceeding to Shirdi for a simple wedding.
With a son almost four, they now live in Ujjain. Music is their joy, their life-breath and their bread-winner. Smita was hailed as the first woman performer of flute in the north Indian classical music at Prathama, a festival held at Bhopal in 2006 to honour path-breaking women musicians. She was also felicitated at 4th Brahaspati Sangeet Samaroh held at Chandigarh in February 2008.
---
Clik here for clip of Durga on flute.