| | |
| --- | --- |
| A Voice Painting Dawn | |
| By Rajiv Trivedi | |
Sharada Velankar was conferred with such epithets as 'nightingale', 'second Lata', and the like ever since she started school. As Head of Vocal department, Faculty of Music, B.H.U. today, she shyly laughs it all away. But any one who has listened to her can find merit in the adjectives. That singing is more delight than discipline has time and again been proved to be true by stalwarts like Pt. Mallikarjun Mansur, D.V. Paluskar, Mogubai Kurdikar, Pt. Omkarnath Thakur to name a few. One needs both the native equipment - GatraVeena - the throat and proper training. However a third that is inescapably present in all true artistes, is a well developed aesthetic sense.
When Sharada was groomed by Pt. Surendra Mohan Mishra, a direct descendent of Piyari Gharana of Benaras, this essential third gradually took form along with well-exercised larynx and knowledge of musical phrases. Quite likely, the union of sun, sky and water on the ghat-s of Ganges did its share to fill the youthful sensibilities of this budding vocalist. Her father Shri Shridhar Bhatt, head priest of Dattatreya Matth (Shringeri Peeth) lived chaste life of a devotee.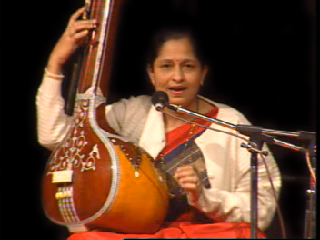 Her mother Lalita Bhatt ran the household efficiently making all five of her children spend best part of their time in studies. Living steps away from Narad Ghat silence in their home was punctuated with cries of "God is truth" chanted by grieving relatives taking a body for its last rites on Harishchandra Ghat. Orhan Pamuk in Memories of a City: Istanbul talks about huzun pervading the city -- a melancholy that becomes sublime as residents undergo 'an erosion of the will to stand against the values and mores of the community' and learn to practice 'endurance in times of poverty and deprivation'. The holy city of Kashi does not recognize melancholy; the unshakeable faith in god's justice and concern encourages them to feel cheerful in face of absolution or Moksha from the cycle of birth and death waiting for them soon as they leave this world for the other. The strong reverence for divine allows them to treat all that is mortal with irreverence. And yet, rituals are the city's essence. You take a dip in the holy river before sunrise, chant your prayers and take hot eatables (samosa, kachouri, jalebi, lavanglata) on your way home. After the day's grind which you bear with paan-supari-tambakhu, you allow your body to relax with a glass of thandai or lassi.
This belief in ephemeral nature of life lifts them above squalor, sorrow, grief of here and now and assured with certainty of a happy outcome (jahi vidhi rakhe ram tahi vidhi rahiye) they are ready to play with cards destiny deals out to them. After all even Kabir spoke of earthly life as an experience to taint the innocent soul. So, all those who do not learn from Vedic wisdom, learn this truth from the gentle mockery of world at large and a skin deep attachment to pleasures of life practiced in the city. So the Kashi dweller takes a deep breath and breaks into song that is at times cheering, at times jeering; often it is a joyous prayer. There is forever a medley of sounds in the Ghat city -- heavy bells jingling in temples, Shankh-s (conch-shells) being sounded every so often, chants for rites from birth to death, oarsmen taking tourists and devotees for a tour of the river. From all this germinates the idea -- however short or superficial life be, it is indeed beautiful.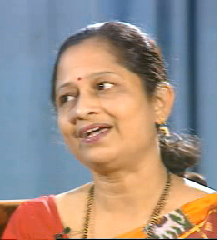 Thus the third element, so essential for a true artiste, is provided by the city itself. Ustad Bismillah Khan had internalized this oeuvre of beauty to such a degree that he could never stay from the city for long. In such a milieu young Sharada discovered that melody constantly buzzing in her mind sounded equally captivating when she let it escape. Members of her family would enjoy her singing as would her friends but it was her teachers in school who by selecting her as the lead singer year after year brought awareness of her talent to Sharada. Although the idea was first introduced to her by mother Lalita who had herself learnt Carnatic Veena and as a necessary requirement, Carnatic vocal from Shri P. Sambamurthy, Sharada took it in her stride. Children hold their teachers in greater esteem than the parents.
It was complete reliance on her mother that bolstered the young girl of eight to stand boldly on stage and present her first concert. It was a Meera bhajan her mother had taught for children's day. When after her primary education at Little Flower House Sharada joined Hindu Girls School -- founded by none other than Madame Annie Basent herself -- she found a life-long Guru in her music teacher Pt. Surendra Mohan Mishra. He is a direct descendent of Piyari Gharana that dates back to second half of fifteenth century. Stalwarts like Prasiddhu Manohar, Jagdeep Mishra and his disciple Moujuddin Khan, Rasoolan Bai, Siddhewshwari Devi, Badi Maina and several others have evolved the genre of Banarasi or Bol-banaav Thumri. Several of rare compositions in Des, Sarang as well Dadara-s were taught to Sharada by Pt. Surendra Mohan's mother. This octogenarian who passed away in 1999 had a large repertoire of Thumri, Chaiti, Kajri and Tappa-s. Renowned singers like Rajan Sajan Mishra and Girija Devi learnt several compositions from her. Sustained by an oral tradition, it is through face-to-face learning that Indian music has continued its flow.
As her education progressed Sharada came in contact with other teachers. In her under-graduate years she learnt with Vanmala Parvatkar and during her post graduation, Padmashree Pt. Balwant Rai Bhatt "Bhavrang" trained Sharada. She did her doctoral under the able guidance of Dr. Chittaranjan Jyotishi. Yet, it was Pt. Surendra Mohan who remained her Guru all the while. Even today, Sharada continues to learn with him. it was with his guidance and her mother's encouragement that Sharada cleared the audition of AIR Allahabad as a Sugam vocalist when she was only 15. Like all other artistes of Varanasi she would travel to Allahabad for recordings as All India Radio, Varanasi was only a relay centre then. Later she was approved as a classical vocalist. Her classical, semi-classical and light performances have been recorded and broadcast from many stations of All India Radio. Sharada has also done special recording of Bhajans for National Channel of A. I. R. She has also performed for Doordarshan.
A Reader's Response to this article
I am basically from India, born and brought up here. My Parents are from Kanpur and many of my relatives stay around Benares. I was about 8 years old and in Bhopal at some acquaintance's house. I think it was a cassette that the folks who I was living with had or it was the AIR that was playing her rendition. I was so impressed and smitten. Thankfully it happened at a very impressionable age and reached right where it should reach. I came back home and life continued as normal except not quite as before. I had developed a taste for the classical. Never did I consciously think then of how it all started... In school I learnt Table for 4 years and had to give up eventually for lack of time and lack of support from family, but the love for Indian classical just grew. After finishing my Masters in Computer Science I went abroad for 5 years and while I was there I got more and more time to indulge in music which was my getaway whenever I felt homesick. I guess as a person grows older, we tend to look back and trace events in life and if there is really one love in my life that is still strong infact stronger it is Indian classical so I would often in the evenings try to trace how it started and I could almost hear Dr. Sharada Velankar's voice. Its even amazing I remembered her name that I asked asked my Aunt- "Who is singing?" and she said, "She is Sharada Velankar..."
Blessed with a glorious voice and a training to match, Sharada Valenkar sings for the joy of singing. in fact, she can neither contain nor hide the pleasure at singing. Some or the other melody occupies her thoughts constantly. She blushes as she confesses, "Many of my friends, acquaintances and senior relatives often complain that they saw me or waved to me one day on the street, but I did not acknowledge their greeting. I try to explain that I did not notice them because I was lost in music. I myself feel that it sounds lame but I can't help it." Following the tradition of Chaturang gayaki she sings Thumri, Tappa, Chaiti, Kajri, Hori as well as regular Khayal-s.
Her performances have left many a fan bewitched by her melodious voice and confident singing in different parts of country and abroad i.e. New Zealand, Nepal, Delhi, Jammu, Rajasthan, Bihar, Gujarat, Uttar Pradesh, Madhya Pradesh, West Bengal, Maharashtra, Orissa etc. Many artistes go through their lives with little recognition of their art. Her inherent diffidence and academic orientation has never left space for ambition to take control. Yet such is her talent that honours and awards have come her way at regular intervals. She was given ISCLO award at Calcutta in 1983. Ashok Mission Educational Society conferred her with "Udayan Priyadarshi" award in 1998. She received Avantika Green Earth award at Delhi in 2004. She has also been recipient of the prestigious Saraswati Samman.

Despite her reserved nature, she was coaxed into recording Title and item / situational songs for several T. V. Serials. She has given concert recitals and recorded programmes for Akashvani that number around 350. Two educational films that highlight her academic interest and artistic acumen have been produced by UGC - CEC:
Shastriya Evam Lok Ki Sangamsthali: Thumri (Citation for Expert in UGC-CEC 19th Annual Awards)
Ritugeet: Lok Ka Rang, Shastriya Ang
When asked that how does she manage her riyaz with her teaching assignment along with burden of administrative duties at the University she shrugged it off with, "Teaching and training students is riyaz enough for the physical part. For creative inspiration I turn to my Guru ji or my mother.. Sometimes I stand watching Ganga flow. It fills me with peace and then suddenly music is all I am conscious of."
Her husband Ravishankar and daughter Anu see that curious smile lighten up her face and their faces radiate back the same joy. The darkness of trepidation, gloom, fatigue is wiped away as Sharada's golden voice fills one's heart with glorious hues of dawn.
---
click here to contact Dr. Sharada Velankar
Music Healing: A Scientific Evaluation An Article by Dr. Sharada Velankar in Bharatiya Shastriya Sangeet: Shikshan, Shastra Va Prayog.
For views of musicians on aspects of music click here