| | |
| --- | --- |
| Wafting melodies, Strewing gems | |
| By Dr. Rajiv Trivedi | |
In the holy city that enjoys the status of being the oldest city of India, when one wishes to take a break from languid yet lively Ghats, or itches to reach someplace familiar and open after trudging miles through strange, cool, labyrinthine Gali-s, it is always Bechu in the parlance of rickshaw-pullers and Xanadu of Mahamana Madan Mohan Malviya's dreams that one lands at. Its campus hailed as the largest Asian campus of a residential university, Banaras Hindu University has umpteen feathers in its cap. At the focal point of this semi-circular township, serenely stands a temple in white marble which is among few rare structures of its ilk that serve their intended purpose – of providing mental peace and spiritual uplift. The Vishwanath temple at BHU is perhaps the most secular of religious structures, with no jarring formalities or compulsion to discourage and sprawling lawns to encourage one's own mode and pace of meditation.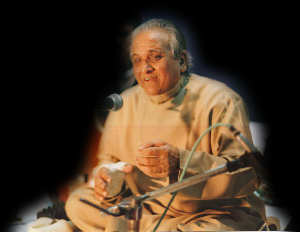 And it is at this core of peace and harmony that one gradually grows aware of the melody that gently welcomes the morn. Knowledgeable ones recognize the voice of Dr. Chittaranjan Jyotishi, who has recorded several of his Bhajans to be played regularly at the temple. Recording these refreshing Bhajans, all perfectly emulating the Gwalior style of singing, was only an extension of an activity that had been close to this heart. Dr. Jyotishi has been recording Bhajans for Geeta Samiti founded by Malviya ji in 1948, for over four decades now. Growing up in the intellectually charged atmosphere of BHU, where his father Pt. Gaya Prasad Jyotishi, a close follower of Pt. Malviya was a Professor in the Sanskrit faculty, Chittaranjan had a natural inclination for poetry and music. It was no easy matter to sing, where Sangeetmartand Pandit Omkarnath Thakur would frown at the slightest variation in accuracy of notes, or Dr. Lalmani Misra would quietly keep a count of flaws in recital. On the other hand, it was severity of expectation that made youngsters accord serious respect to music.
Chittaranjan Jyotishi trained under Pandit Omkarnath Thakur, his able disciple Padmashri Sangeetacharya Bhavrang Pandit Balvantrai Bhatt and famous Dhruv-pad singer Pt. Shiv Prasad Tripathi. An avid learner he went through all required academic courses in music and earned the Doctoral degree with an investigative work on "Rag Kalpadrum" in 1964 at the age of 24. The young performer enticed the audience with his sonorous voice and skillful handling of compositions. It was only the respect for scholarship, inherited as well as circumstantial, that drew him towards his mentors' profession. It was only the severe training he had received from his Guru-s that gave him the strength to reject the lure of a glamorous career on stage.
Dr. Jyotishi has sincerely played the role of an academic, conducting researches, making education policies, advising bodies like Department of culture and UP Sangeet Natak Academy, teaching students through all possible methodologies, but never for a moment did he cease to be an artiste. 'A' grade artiste from Allahabad station of Akashvani since 1968, he has given programmes on Doordarshan as well. With far more ease and grace than an impersonator or a stage magician, Dr. Jyotishi has donned the mantle of performer or a teacher, as the situation demanded. And therefore, regardless of the original purpose for which he was invited, the audience ended up with a brilliant lecture and an enticing performance. There is hardly any part of India where he has not been invited for lecture-demonstration or performance. From Varanasi, Ballia, Chhapra to Delhi, Bhopal, Behrampur, Khairagarh and even to San Fransisco, USA, Dr. Chittaranjan Jyotishi has left the audience both emotionally and intellectually charged. Responsibilities as Dean of the Music and Performing Arts Faculty from 1993 to date have kept him closer home but this scholar-minstrel has always welcomed an opportunity to 'delight and to instruct' a fresh audience. His daughter Jayshree Mishra is continuing the task of her father, teaching under and post graduate students at a college in Bareli.
---

References :
Naman -- Indore, Dec. 2nd 2001