| | |
| --- | --- |
| Ome Swarlipi: Notation System for Indian Music | |
| By Dr Ragini Trivedi | |
The modern music notation systems are a result of contribution of two stalwarts – Pt. Vishnu Digambar Paluskar and Pt. Vishnu Narayan Bhatkhande. As a result for the first time in history of Indian music, writing down compositions came into fashion. Pt. Vishnu Digambar Paluskar in his books, Bharatiya Swarlekhan Paddhati and Sangeet Tatva Darshan discussed in detail the essence and application of his notation system. Pt. Vishnu Narayan Bhatkhande did the same giving numerous compositions in his system in the series, Hindustani Sangeet-Paddhati Kramik Pustak Malika. Several of the books written by Pt. Paluskar between 1926- 1931 are no longer available yet the there is ample material to establish his notation system. With a little modification in this notation, Pt. Vinayak Rao Patwardhan and Pt. Shankar Rao Vyas presented their versions in Rag Vigyan and Vyas Kriti. Pt. Omkarnath Thakur with still further modifications and additions published his book Sangeetanjali in six volumes. Still, it was Pt. Bhatkhande's system that found popularity amongst musicians.
In creation of these systems both scholars relied upon western staff notation which resulted in some shortcomings.
The table below sums up the two systems.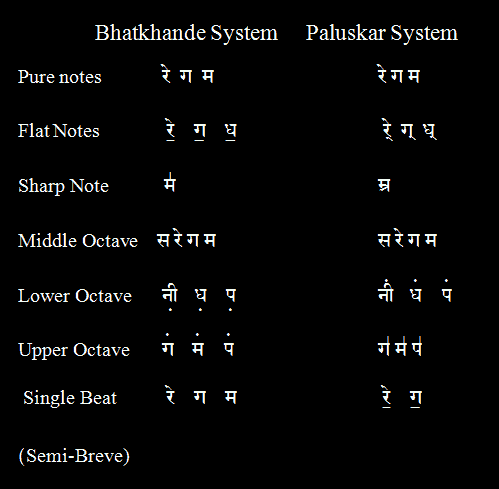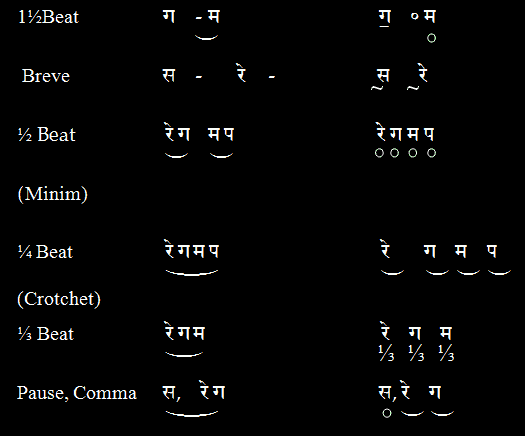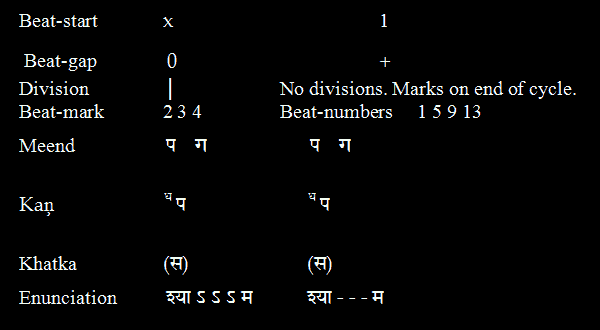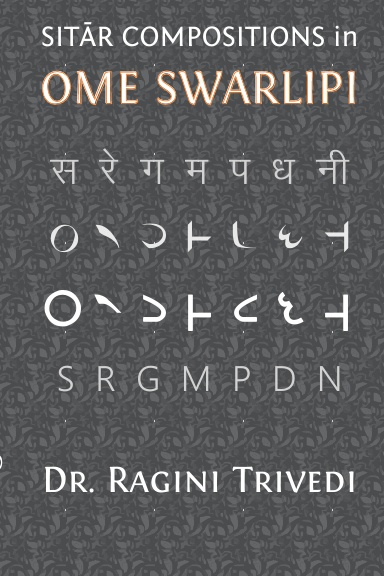 Sitar Compositions in Ome Swarlipi by Dr Ragini Trivedi (Omenad, 2010) now available for purchase at Lulu.com.
This is the first book to feature this script, complete with a detailed instructions on using it, a brief history of how it came about, and of course the 8 raga-s with Compositions (bandish-es), Tana-s & Toda-s. Stay tuned for a full review coming soon!
Prime reason for sparse documentation of Indian music is its complexity. Pt. Omkarnath Thakur says,

Marking the subtlety of Indian music, it is near impossible to express it accurately through notation. Personal experience emboldens me to state that any music which involves an array of grace notes defies absolute documentation. 1
It is this inability of existing notation systems that gives rise to inconsistencies and misinterpretations. However, the two thinkers were keen enough to appreciate the finesse of Indian notes. Between them, the two had created almost all symbols required to annotate Indian music with accuracy but till date there was no successful endeavor to combine the two. Moreover using symbols that are independent of any linguistic script would render such a combination quite competent for making the notation system universal.
It was with concern for precision and universality that Ome Swarlipi was developed. Instead of Devanagari letters, symbols have been designated for notes and their variants. Integrity of Indian melodies with rhythm demands that notation system should be able to express the notes vis-à-vis duration. With special marks, it can express nuances of Tantrakari making it useful for instrumentalists.
It is self-evident that Indian music is no longer limited to a geographic locality. But the way institutions and individuals misconstrue for their ends, it poses a challenge for those committed to it to retain the intrinsic value and essence of Indian music. The responsibility for distortion and loss would rest with the knowledgeable alone. A couple of centuries earlier the curious western scholars made honest inquiries about the Indian system of music. Time and again they faced lack of authentic information. All such scholars – Captain Willard, Sir William Jones etc. – reported that while the musician in West reported the master of some genre in the East, the Southerner reported him to be in the North. In Maharashtra they would say that such style of singing existed only in Bengal.2 In Nepal and Kashmir they said such ancient knowledge could be found in South alone.3 A frustrated Jones admits that lacking a clear interpretation nothing can be committed. 4 It is on submissions of these scholars, that scholarship of Indian music largely rests. If for some reasons Indian classical music is considered spiritual, mysterious and beyond rationality then it is the responsibility of the present day scholars to resolve such misconceptions. A tool to document music accurately like the proposed notation system, would go a long way in establishing the rational, scientific nature of Indian music.
Ome Swarlipi was referred to several music instituions and university departments for validation. As a result several prominent music schools and choral groups are employing this for learning and playing Indian Classical music.
Based on feedback received from students, musicians and academics received over a decade, the next part of this book has been planned with 8 more Raga-s and fresh compositions for those repeated, with text in Hindi. The new volume and other useful titles can be browsed and ordered at Omenad shop.
References :
---
1 Sangeetanjali Part III, Second blossom, first bud. (Omkarnath Thakur Estate Bombay: Second edition: 1979) p. 1
2 Ozley, Sir W. Anecdotes of Indian Music. in Sourendra Mohan Tagore's Hindu Music (L.P.P., New Delhi:1875, second edition 1882. Second reprint 1994) p. 167
3 William Jones. On the Musical Modes of the Hindus. 1784 in Sourendra Mohan Tagore's Hindu Music (L.P.P., New Delhi:1875, second edition 1882. Second reprint 1994) p. 156
4 Ibid. p.157 "The rules for modulation seem to be contained in the chapters on mixed modes for an intermixture of Mellari with Todi and Saindhavi means, I suppose a transition, however short, from one to other: but the question must remain undecided, unless we can find in Sangitas, a clearer account of modulation than I can produce, or unless we can procure a copy of Geetgovinda with the music, to which it was set, before the time of CALIDAS, in some notation that may be easily deciphered.
Institutions desirous of using Ome Swarlipi may write to omenad dot net at g mail dot com with details of courses.
Links:
---
Other articles by Dr. Ragini Trivedi
Role of Institutions in Distance Music Education
Ideal Objectives And Music Syllabi
Sample Compositions from forthcoming book Tat Ninad:
Book Reviews
Sitar Compositions in Ome Swarlipi Read Review by Pt. Omprakash Chaurasiya
Indian Classic Music & Gharana Tradition
Eminent Musicians of Yester years