Book release:

Rasgaan Sudha by Dr. H.V. Burli

Shruti Shankar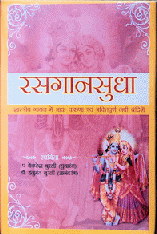 Dr. Hanumant Burli worked intensely to compile Bandishes of his father, late Pt. Venkatesh Burli a noted vocalist. In a simple but gracious ceremony organized by SwarSri Academy at Dharwad on 20th April 2008, the doyen of Indian singing Padmvibhushan Dr. Gangubai Hangal released the compilation. She appreciated the compilation of these Bandishes, done for the first time in Hindi and expressed delight that now even Hindi speaking persons would be able to sing these poems. She also warned that that while poetry may well be enjoyed through reading quietly, a Bandish necessarily has to be sung. The younger singers are certain to benefit from this treasure-trove, for their talent often gets hampered by their limited knowledge of compost ions.

The effort of writers would find true appreciation when these compositions find flowering in vocal presentations.
In the book Rasgaan Sudha almost fifty compositions of Pt. Venkatesh Burli are given under section, Sudha Rang. The major section is Anand Rang carrying over 200 compositions of Dr. Hanumant Burli. The father and son team worked for thirty years towards this compilation. The book is valuable also because it contains notations and details about Aprachalit (Rarely attempted profound) Raga-s. Being disciples of Haridas 'Hanumesh Vithal', Burlis have composed the new Bandishes with spiritually oriented lyrics. In her foreword to the book, renowned violinist and scholar Padmabhushan Dr. N. Rajam writes, "There always has been a crying need in Hindustani Music field for compositions with spiritually oriented lyrics. I am happy this long standing need being fulfilled by the beautiful compositions of Dr. Hanumant Burli and Pt. Venkatesh Burli. It goes without saying that the composition is of a high order." In her foreword, Dr. Gangubai hangal too congratulates the duo on their achievement. Padmashree Pt. Gokulotsav Maharaj the renowned saint-singer too blessed the book in his letter to the author.
The release function was attended by musicians, critics, scholars and enthusiasts. Shri Nagesh Shanbagh conducted the function inviting Shri Ulhas Gunaga to welcome the guests. After Dr. Hangal had relesed the book and given her brief address, Pandit Shambhu Bhat expressed satisfaction that through this book, the stream of Indian creativity finds one more successful attempt at documentation. The oral tradition shall never dry up, yet in this age of increasing noise and distractions, it is wiser to safeguard one's heritage. Shri Sadanand Kanavalli spoke of the glorious tradition of Vagyeyakaar-s or the writers who wrote bandishes and admitted his privilege to be in presence of modern Vagyeyakaar-s. Presiding over the function,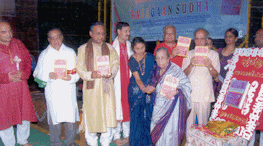 Shri N.P. Bhat emphasized the need of cross-cultural exchanges. Publication of such bandishes as these are a laudable step in this direction and he urged Dr. Burli to translate the book in other Indian languages as well.
The function in its next phase transformed the mood from serious thought to quiet enjoyment. The students under their mentor Dr. Burli's guidance presented the new Bandishes in Raga Priyadarshini, Malgunji, Nand and DevRanjini. Dr. Burli's wife, Sou. Lata and daughter Ku. Gouri presented compositions from the book in Raga Maru-bihag and Jaunpuri. A dhrupad bandish in Raga Miyan-ki-Malhar was presented by students of Karnataka Music College.
Order or browse collection on Omenad shop.
---
Book Reviews
Sitar Compositions in Ome Swarlipi Read Review by Pt. Omprakash Chaurasiya
Sample Compositions from Tat Ninad:Jayjaywanti Kalingada Kamod Kedar
Indian Classic Music & Gharana Tradition
Eminent Musicians of Yester years