| | |
| --- | --- |
| Book Review: Sur Vahini by Dr. Santosh Pathak | |
| By Shruti Shankar | |
Sur Vahini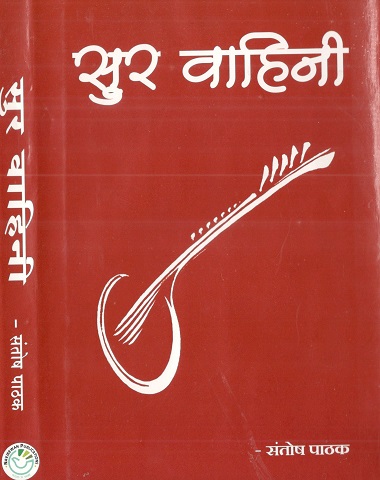 In a land with languages more than most continents, history tracing back thousands of years, no gathering of writers is sufficient to write about multi-facted aspects of its art-forms. Dr. Pathak forays into this mammoth realm of knowledge and capably brings forth trinkets and gem that might contribute to adding strokes to final picture of Saraswati -- the muse that had in her service, a hundred sons of Bharat to explain Natya to dwellers of heaven and earth. Dr. Santosh Pathak is an avid expert on digital innovation, Ome Swarlipi and has decoded it to bring out simple familiar concepts to make writing Indian musical notations on computer an easy task. But in this volume, there are theoretical essays with more poetic references than compositions.
This is a bilingual volume with 28 essays in Hindi and English. No two essays converge excepte for fundamental aesthetic point of view that has retained continuity for milleniums. Niyati Singh speaks of "Globalization of Music" while Naina Shukla does a microcosmic study of musical instruments used in folk-music of a small town, Kasganj in Uttar Pradesh. Situated on bank of Ganges, it has historic presence right from legendary period of Varah-avatar to being documented during Akbar's regin as Soron-sookar Janpad. It is said to be birthplace of Tulsidas and asht-chhap poet Nand das. Over dozen and half instruments are common to instruments used all over the northern India, but the selection makes the whole bunch unique. It is a pointer to several inquiries that may be taken up for still deeper documentation.
Dr. Ankit Bhatt attempts an assessment of relationship between Veena and Sitar techniques and Dhrupad. Author concludes that similarity of four musical movements is found in Veena playing and Dhrupad singing. Some scholars have started with this fundamental structural similarity and actually traced how the strings slowly attained a style of their own. Societal pressure being same in all ages, even a creative artiste has to robe his innovation in garb of tradition. Modern Indian strings have moved from emulating Dhrupad singing style to espousing the singing style of khayal. This is borne out by license their reputation grants them, to make famous instrumentalists break out into songs, with their instrument providing background strumming just like the golden period of Dhrva-pad.
It is rare to find a meaningful abstraction that traces possible exchanges or relationships. Virginia Woolf observed in 1909 that, "We are miserably aware how little words can do to render music." An article on this very website says finds same is not a common expereince of writers in India. It is observed, that " there is almost no discussion of this form of music by modern literary writers. It is this studied distance from theory or intricacies of music which suggests that Indian intellectual still harbors some sort of queasiness." Dr. Annapurna Shukla might be filling this gap by comparing movement of lines in art to movement of notes in music. Siddhi Bhatnagar's essay on poetry and music is another attempt at connecting writers with music but it further highlights the lack of any real understanding of Indian music practices. This may well be because, the musician in India a hundred years back, " traversed the musical path driven by his inner light with no external schooling or intellectual support".
Another essay neighboring this subject is Dr Chetna's delinating the region common both to mind and emotion that unites artist with the aesthete. Scholarly references are made to stalwart singers from prominent traditions, most of whom hold emotion to be supreme. This is indeed correct when a musician forgets own intellectual efforts at learning, ordering, selecting and presenting and gives all kudos to emotions. Probably, this is why Ustad Vilayat khan confesses his fascination with a particular note he was swayed by through out his life.
Dr Santosh Pathak made his contribution with a well-defined evaluation of Dr. Lalmani Misra, the top-figure in author's musical lineage. To pre-existing resources he added new information about Rajasthan connection the renowned musician-innovator.
An essay in english by Dr. Rajiv Trivedi was again an evaluation of choice before a contemporay musican and evolutionary possibilities of ICM.
The volume is well printed and bound.

Language: Hindi and English
Publisher: Navjeewan Publications, Jaipur.
First Published: 2018
Pages: 221
ISBN: 8788182681965
Browse for books or order this title here
---
Suggested:
Bharatiya Sangeet Vadya on wikipedia
Raga Vibodh: Misrabani Purchase on external site
Sitar Compositions in Ome Swarlipi Read Review by Pt. Omprakash Chaurasiya
Ome Swarlipi mein Misrabani Vol.1 Read Story A Backround note to production
Bhāratīya Shāstrīya Sangīt: Shāstra, Shikshan Va Prayōg
List of books on music.
Musical tracks.
Annotated compositions.