| | |
| --- | --- |
| String Compositions of Twentieth Century | |
| By Smita Tanshikar | |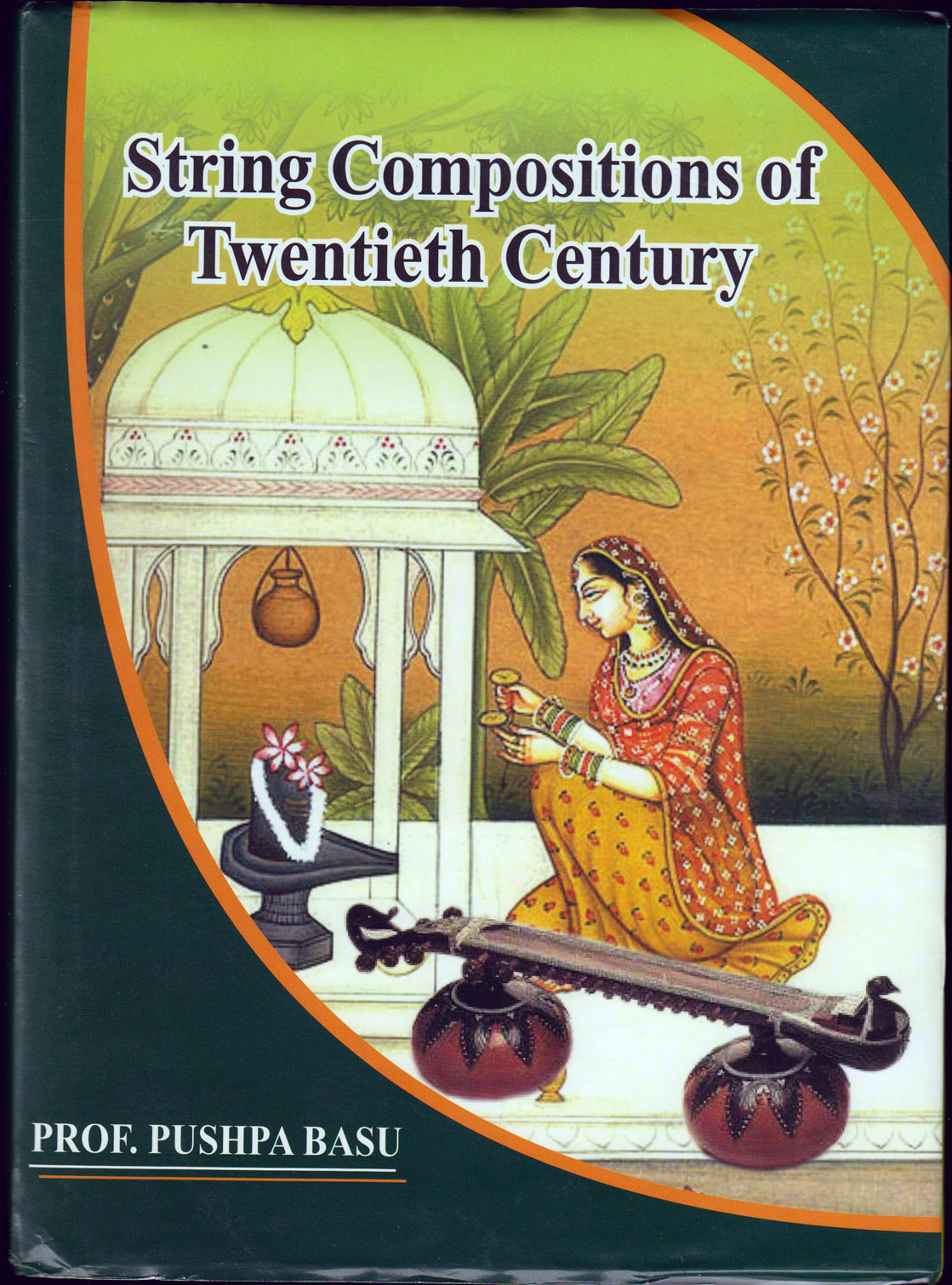 String Compositions of Twentieth Century is an outcome of readers' response to Dr. Pushpa Basu's Rag Rupanjali, a well-received volume carrying several compositions of scholar-musician Dr. Lalmani Misra. There are not many volumes devoted to Gat or Bandish that get published in English. Apart from his own books, some of Dr. Misra's Gat-s have been published separately in articles and in one book written in English. Raga Vibodh Misrabani is a set in two volumes that presents his compositions in Hindi. Another of Dr. Misra's student Patrick Moutal who has published Hindustani Gat-s Compilation declares on his website:
Indians, rightfully thinking that learning their music was undissociable (indissociable) from their language, wrote their most essential contemporary texts in Hindi. Even if non-Hindi speakers can't make sense of raga-s discussions, I invite all students to get right away the 6 volumes of Pandit Vishnu Narayan Bhatkhande's Kramika Pustaka Malika...
While some serious learners would act on his advice and go to the primary source, making best efforts to gain proficiency in language, several ICM learners may not be able to invest time and energy, saving it to understand and gain competence in the complex music instead. Some Indian authors, sympathetic to the millennial learner, have already begun to evolve methods of expression that make it possible for an international learner to learn Indian Classical Music without having to learn Hindi. Sitar Compositions in Ome Swarlipi gives ample compositions written using the digital script, Ome Swarlipi in eight Raga-s. Dr. Basu in the latest volume gives compositions in 105 Raga-s.
The sheer expanse over 105 Raga-s is enough to make this a fundamental volume; what adds to the value is that all compositions given in the book were creations of the genius innovator Dr. Lalmani Misra. The author was among the first batch of students at BHU who started learning Sitar in the Instrumental department started by Dr. Misra. Dr. Basu later joined the department and was in constant contact with her mentor since 1958 till his death in 1979. As a result, the compositions range from simple ones meant for beginner students, to the elite complex ones that are hallmark of the Misrabani style. And yet, the author avoided the truly complex ones in Jhoomra and other complex Tal-s, to keep it accessible to an international learner.
Dr. Basu herself admits, "it is very difficult to learn Indian Classical Music from book" (jacket note, front) but she knows that one can learn basic Raga structure and form of composition through this mode and therefore devotes four chapters that provide formative introduction and essential definitions. There is a brief chapter on history and origin of Sitar, where Dr. Basu refutes mythical version about Persion origin of Sitar, highlighting modern scholars like Acharya Brahaspati, Prof. Lalmani Misra and Thakur Jaidev Singh who trace the evolution from TriTantri Veena, also called Jantra in local parlance. Students would find nomenclature of Sitar parts given in both languages along with diagram, especially useful. She follows it with Saptak and Murcchana exercises to start the learner and gives instructions on the proper way of holding and playing Sitar.
A few of interested readers might already be cognizant of numerous books on Tabla and Pakhawaj (Aban E. Mistry, Chhotelal Mishra) but to an average student, the chapter on Tal and Theka is immensely useful for understanding primary concepts like Matra, Khali, Tali. She also explains over a dozen Tal-s, clearly notifying the rarer or less popular ones.
The author is moved by beliefs of a period when the sung (or produced) note was sacrosanct and it was blasphemous Annotation, blasphemy?

It is not out of the aversion of master-performers (most of whom never had formal school education) alone that writing down music was akin to sacrilege. Unlike west, which follows a fully structured composition that is repeated note for note by players in an orchestra, Indian music evolved as a free-flowing melody. Naturally existing note-combinations were recognized and formalized as Jaati-s and later evolved with more prescriptions and proscriptions as Raga-s. A Raga presentation, allows fully independent and unique expression to the artist, each time she sings or plays. Thus it is only the indicative note-structure and movement, which is written down and referred to as Gat or Bandish (composition) in Indian music. Those who seek literal, real-time, note-by-note expression of actual music face frustration and failure and turn away from genre of Hindustani music. Hence, to keep the learner interested and make him succeed, the wise preached, to 'shun the books and bow to Guru'.]
-- Editorto attempt to write it down [in a way, that age still persists to this day, in the bulk of celebrated performers crediting excellence to practice alone and not university education] but emboldened by her path-breaking mentors, she documents compositions in Raga-s that have not been heard in past several decades. True, it needs instructions of an experienced informed teacher to understand the peculiarities of a Raga; but, when an experienced practitioner has matured to a certain level where she is able to analyze her own subjectivity and grasp underlying objective principles, it is possible to make use of Raga notations and bring alive a Raga that had not been heard for some time. Thus she includes compositions of Raga-s like Shyam Kalyan, Saurashtra Bhairava, Khambavati, Jaldhar Kedar, Suha-Sughrai which were sung and played by performers of yore but have turned 'rare'.
The book is remarkable in following a sort of indexation which makes it easy to visit a particular composition. It retains the original Bhatkhande notation system and therefore does not include the more complex compositions where detail demands a larger book format. Dr. Basu included a Compact Disk carrying demonstrations of compositions with the earlier volume Rag Rupanjali but repeating the same exercise with around 350 compositions would have been superfluous. There is ample music available over the internet and the interested learner may contact Misrabani exponents and scholars for specific queries.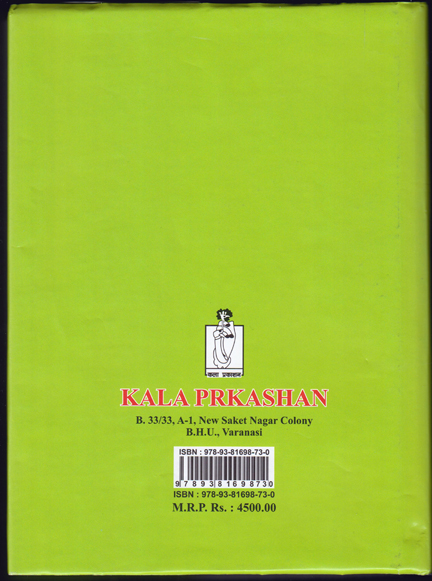 The printing and production of the book is commendable. Kala Prakashan might have improved it with more modern looking cover but a Ragmala style painting super-imposed with Vichitra Veena, makes for a more direct connection with content – string compositions of Vichitra Veena virtuoso Sangeetendu Dr. Lalmani Misra.
String Compositions of Twentieth Century
First Edition: 2015.
ISBN: 978-93-81698-73-0
Published by:
Kala Prakashan, B 33/33, A-1, New Saket Colony, BHU, Varanasi. INDIA
Browse other titles or order this book on Shop
---
Suggested:
Bharatiya Sangeet Vadya on wikipedia
Sitar Compositions in Ome Swarlipi Read Review by Pt. Omprakash Chourasiya Order it on Lulu
List of books on music.
Musical tracks.
Annotated compositions.