| | |
| --- | --- |
| Orchestrating Thought & Melody: Pt. Omprakash Chourasiya | |
| By Vivek Mridul | |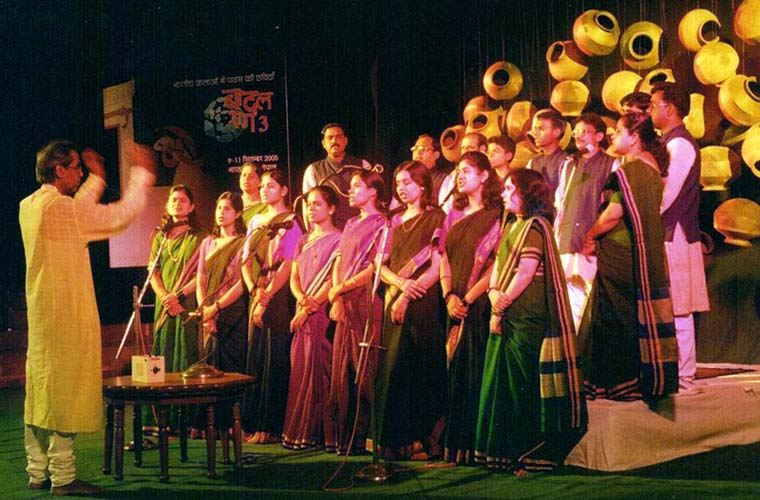 He is pretty weak – one might say, fragile – these days. For the necessary movements, he prefers to walk on his own, holding on to wall and furniture rather than take human help. Failing eyesight makes it difficult for him to recognize people unless they come close under bright light. The speech falters and one wonders if he is meeting the famed musician and composer who carved his signature in playing Santoor and created a whole new choir based on Indian classical music. Pt. Omprakash Chourasiya, one of the senior players of Santoor, established Madhukali Vrind with the express aim of reviving the ancient tradition of orchestration and choral singing. Instead of Vedic hymns he chose poems of national poets. All these poets, in their own way, had contributed to enriching the modern Hindi language. They often find a token space in text-books of school children but with changing norms, values and concerns, the poetic wisdom and linguistic excellence find little patronage. The literary Hindi, for which scholars worked over a hundred years, failed to percolate to masses, with local dialect as strong contender everywhere. Conversant with the appeal of the dialects – Bundelkhandi in Sagar, Bhojpuri in Benares – Omprakash ji could also appreciate the power of thought in the poets' Hindi. These were modern mantras that needed to reach the people. And therefore, he decided to compose these 'challenging' 'unpronounceable' 'terse' words using an equally intellectual music system – the Raga compositions. The time-honoured compositions of Nirala, Prasad, Mahadevi, Dinkar and others were composed as choral songs and presented live in ever-growing numbers. It was at Bharat Bhavan that these classical-based poems rang throughout the city with 5,000 school children singing them. It is the thunder of those songs that can be espied in tremors in his present voice. Granting the poems, the music, the idea of choral singing a new lease of life, a novel garb and renewed vitality, Pt. Chourasiya has uncomplainingly limited himself to confines of his artistic home.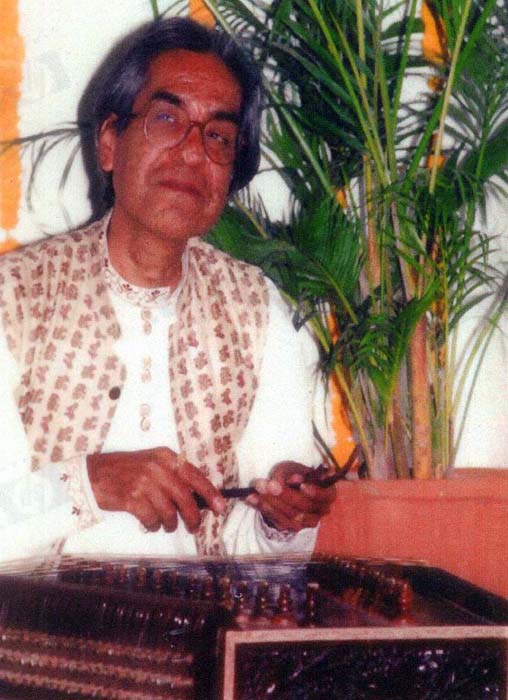 It is not long in past when in artistic circles of Bhopal the name of Pt. Chourasiya carried a distinct grace. There was a constant surge of enthusiasts and practitioners who yearned for his guidance, training or support in the field of music. Organizers and artistes alike sought his consultation. There could rarely be a musical evening of consequence at Ravindra Bhawan or Bharat Bhawan without his imprint. His artistic sensibility could shake the dullness of format and that is why Madhya Pradesh culture academies vied to keep up with Ustad Allauddin Khan Sangeet (and Kala, now) Akademi which he nurtured first as Deputy, then as Director. Perhaps it was the particular period, the political patronage or the bureaucratic sensibilities but since mid-seventies the state of Madhya Pradesh had begun to showcase its cultural wealth. The next two decades graduated towards Bhopal turning into an international cultural destination. Omprakash ji fine-tuned schemes for promotion of music through his own Academy; at the same time he prepared ground for establishment of school for dance and center for Dhrupad. For a while when Dr. Ashok Vajpayee was Secretary, Culture, the academies succeeded in seeking support from other agencies and foundations. Pt. Chourasiya made full use of such support and established annual festivals to identify towns as musical centres. While the dance festival at Khajuraho merely adds to the heritage site, ones at Maihar and Gwalior have brought international recognition. He conducted over 450 events for the government during his tenure. He attributes the success for several events he organized and conducted after 1994, to his wife Smt. Sandhya Mishra Chourasiya. He confides that active participation of Sandhya ji resulted in such novel programmes with log-termed impact as organization of Veena Festival in 1999, international conference on Distance Education in Music in 2000 and Prathama in 2007. This last was a challenging endeavor to bring together fifteen women classical instrumentalists who were pioneers in their fields.
Bhai ji is blessed with insight to recognize talent. Be it a young dancer, vocalist, percussionist or instrumental player, Bhai ji has promoted numerous talented artistes. With his guidance many have attained international stature. It was a routine to come across these budding artistes sitting in his government flat in Tulsi Nagar. Several were seen imploring him for this or that programme. It would irk him. He never appreciated the favour-culture. Yet, wherever it was fair, despite his expressed displeasure, he gave these youngsters the adequate stage. On other hand, there were some reluctant ones whom he consistently implored till they agreed to perform. His interest was never in persons, but in survival and perpetuation of the classical art-form. The training and concern he had ingrained from his mentor Dr. Lalmani Misra, guided him throughout. As early as 1983, he started an annual music festival in his memory. The Madhukali event provided him full freedom to showcase best of Indian Classical Music.
The beeline of stage-seekers receded with his retirement from the government job. The prudent ones, wise to the rising sun curtailed their regular visits and the ambitious group of musicians, conveniently relegated him to nether end of memory. However, the serious artistes still pay heed to Pt. Chourasiya and make it a point to seek his blessings whenever they visit Bhopal. Senior culture facilitators ring him up to seek confirmation of their proposals. The physical confinement to home keeps him away from general audience and many of the younger generation know little about him.
Bhai ji is hardly mindful. He is satisfied that he could revive the choral-singing tradition in a new format. Always a positive thinker, he recalls with gratitude that he could still devote ample time to Santoor besides conscientiously carrying out his governmental duties. If he could have it otherwise, he would have liked to devote all his time to this instrument that he presented at 40 recitals in ten countries of Europe including England. He recalls over a dozen recitals given in Nepal, Bangladesh and Srilanka. He counts almost all centers of Akashvani where he was invited to record his Santoor. Except for a few north-eastern states, he was invited by all states across the nation, for his Santoor recitals.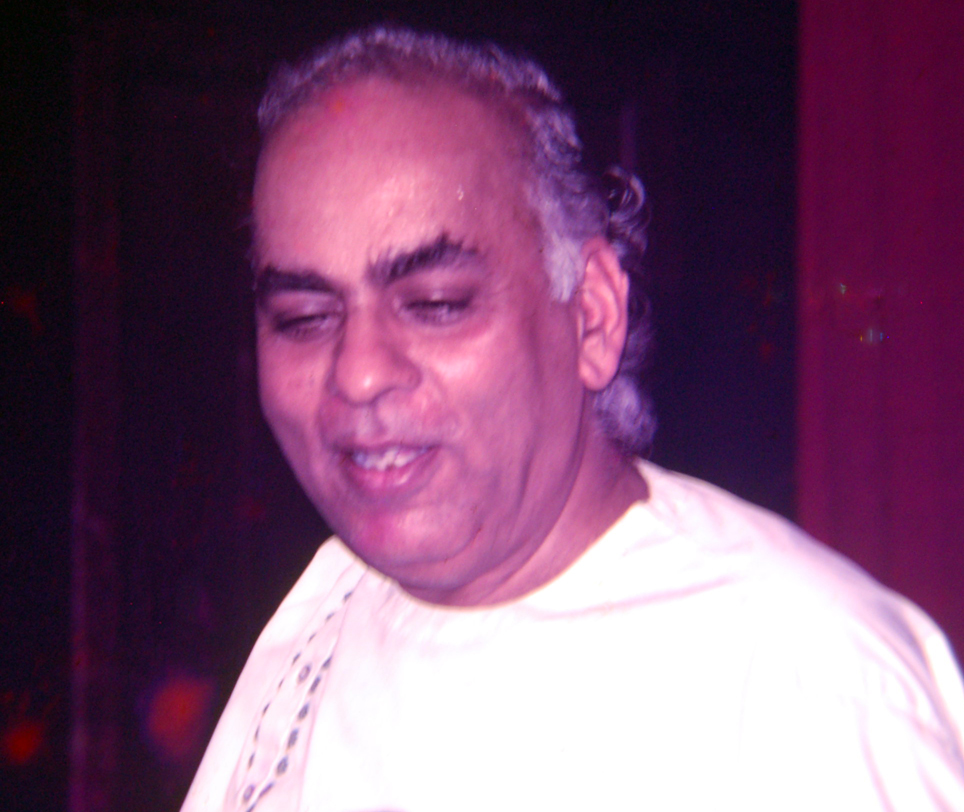 Whenever Santoor is mentioned, the name of Pt. Shivkumar Sharma comes to fore. The artiste who experimented with this instrument to win recognition for it as classical instrument. He once confided that on reaching Kolkata to play Santoor he was amazed that there was already another artiste who presented classical recital on this. On meeting him, Pt Sharma was congratulated by Dr. Lalmani Misra for his untiring work. Pt. Sharma developed a style where holding the stick lightly between fingers he is able to simulate meend with quick slide over vibrating strings. Pt. Chourasiya held the sticks firmly between thumb and forefinger. The sound thus produced is loud and controlled. This style in is in keeping with mentor Dr. Misra's belief that in order to make Santoor fit for classical music the light and frivolous nature of the instrument should be reduced by adding heavier guitar strings. Designed this way Pt. Chourasiya's Santoor allows ample opportunity for work in Mandra (lower octave). He smiles and adds that Pt. Sharma's Meend work has definite appeal; but his own playing in accordance with his Guru's directions also impressed listeners and drew appreciation.

After a pause he turns to look at the picture of his mentor on the wall. His face wells up with memory of moments spent with Dr. Misra. I cannot help voicing the question held in check for years. You had left Sagar and gone to Benares to become a classical vocalist; so, how and when the decision was changed to become a Santoor-player? Bhaiji concentrates how best to narrate the tale.

During early days of my music study, I suffered from a severe stomach illness. Doctors advised me to stop singing. The darkness that enveloped me on hearing this was a shade darker than the present one that restricts my vision. Bhaiji laughs. Despite all odds, his sense of humour prevails. My teachers at Benares were sympathetic. They consoled me that voice was not an essential in learning music. As non-singing musician, I would be able to earn livelihood. So I followed their advice. From early on I was interested in group singing. During college days, I presented and participated in many a group songs. This was the cause of my inclination towards choral singing and Vrind-gan. I studied for B.Mus. degree in Tabla and M.Mus. in Vocal music. For some years I struggled to regain my voice while experimenting with shorter choric compositions. In 1974 my Guru Dr. Lalmami Misra first proposed my taking up Santoor. He said that even though it is a traditional instrument but its players are far and few. Mastering Santoor would ensure bright prospects. I first present a recital on Santoor in Benares in 1975. The same year I played a Sur Singar Samsad Mumbai's 'Kal ke Kalakar'. After that I traveled with my Santoor and played at so many places. For some years now, I have stopped performing. The riyaz is difficult; my failing eyesight and weakened body keep me from stage recitals.

Pt. Omprakash Chourasiya is not one to yield to external conditions. The organization he formed in memory of his mentor, Madhukali keeps him occupied. Madhukali has organized 47 events since its inception throughout the country. They range from recitals of top-notch artistes to workshops for professional musicians and appreciation events for school-children. Madhukali organizes seminars on crucial issues and furthers research and innovation activities. The UNESCO Convention 2003 for Safeguarding Intangible Cultural Heritage, has included the non-profit organization as an advisor. Bhaiji informs that 48th event of Madhukali shall be organized this year. Next year the 49th event would focus on 'Rare Musical Practices'. In December 2016, we would present the fiftieth event 'Shodashi'.

He also looks forward to presenting Madhukali Vrind compositions on nationally visible platforms with senior and younger members of the group. He wishes that at exact moment when poet Kedarnath Singh is being awarded the Gyanpeeth by the president, the TV channels should play the song – 'Jaise Cheetiyan lautatee bilon mein'. Madhukali choir had presented this poem in a unique classical composition. He is constantly in touch with officials regarding this.

I tell him that former members of Madhukali Vrind are contemplating a full scale festival for VrindGan. His face begins to shine at this. Sure, he says; you all should carry this out… you, Punit Verma, Reena Sinha, Vinay Upadhyaya, Sandeepa Pare… he counts names and it assures my doubtful mind of an hour back. He has not disconnected as one might fear; he is full of plans for projects that strengthen music and its practice. While our throats are full with compositions we sang for years, it is Bhai ji's determination that shall bring them forth.

The narrow-sighted ambitious art-world may neglect in its mad-rush, the presence and persona temporarily but whenever the elegance of poetry meets melody of notes, people would count the name of Pt. Chourasiya amongst the creative musicians who bless the world with fruits of their imagination.
---
Suggested:
Bharatiya Sangeet Vadya on wikipedia
Sitar Compositions in Ome Swarlipi Read Review by Pt. Omprakash Chourasiya Order it on Lulu
String Compositions of Twentieth Century
List of books on music.
Musical tracks.
Annotated compositions.