| | |
| --- | --- |
| Book Review: Rag Rupankar by Dr. Sharada Velankar | |
| By Prof. Chetna Banavat | |
Rag Rupankar: Gayan ki Bandishen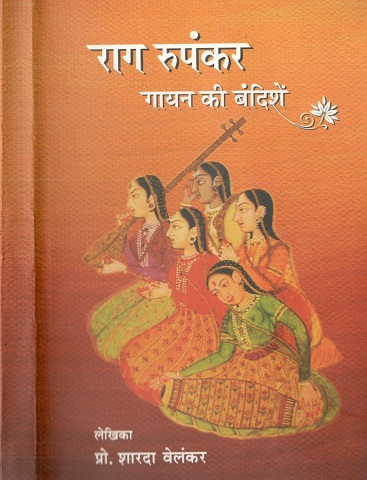 It is always a matter of great joy when one comes across a book by serious artist. Almost everyone knows that in the great Thumri tradition of Varanasi, the person with knowledge and elegant presentation, is Dr. Sharada Velankar, who has carried Deanship of the famous Faculty of Performing Arts at BHU, with equal ease and competence. Her work as a performer is better known amongst vocal practitioners, but there is rising number of her students, who are now begining to make a mark of their own.
This is an impressive volume with several plates of Ragmala representation of Indian music. Abidha Prakashan have produced this book with great care. Unfortunately, I could not get a copy just as it was published but with evryone forced to work from home the past year, like others, I too experienced the pleasure of sudden treasure, when a well-wisher sent me this volume. Once I had gone through the book and tried out a few compositions, I searched for more information. I got several link to Sharada ji's recitals, a few clips of her learning with her mentor, Pt. Surendra Mohan Mishra, but no reviews of this volume. It is just an off-chance that no one had reviewed it. On another level, it also hints at the attitude of a devoted Sadhak, who performs her duty quietly. So here I offer my humble evaluation of Rag Rupankar: Gayan ki Bandishen.
In his preface to the book, noted Art-historian and scholar Late Dr. Anand Krishna ji speaks of the continuity of the Sevak Parampara of Kashi which has preserved the sanctity and purity of music. He hails this attempt at annotating Bandishes of the tradition because so much has been lost. Anand ji calls such compositions, 'frames' through which music may manifest in all glory. Dr. Anand Krishna encourages creation of new compositions with one condition -- they should adhere to rules of the Raga. He recalls a saying of his childhood that Swar or note is the mother and Tal or rhythm is the father of music.
Introductory chapter traces the history of Sevak Parampara of Varanasi to Pt. Dilaram Mishra, born in 1475. A chart traces the lineage from him to present genration. Surendra Mohan Mishra is the senior most in family today with five sons and three grandsons, as noted by author in 2011. In a brief chapter tracing history one learns that vocalists of Sevak lineage first started singing as duet. During a conference held in Patiala, the emperor Mahendra Singh decorated Prasiddhu-Manohar of Banaras as the best vocalists. The two brothers, Pt. Manohar Mishra and Pt. Haridas Mishra (Prasiddhu ji) started the practice of singing together.
First among 37 classical bandishes is a Dhrupad in Rag Shankara, Chautal --
radhika raman giradharan gopinath
madan mohan madhusudan, nat-khat bihari
There are ten up-shastriya bandishes as well. They include bhajan, ghazal besides thumri. But no compositions of Gulnakhsh or Tapp-khyal have been given. As author mentions, these genres, having found few singers, have dwindled into oblivion and are practiced within closed circles by generational practitioners alone.
Dr Naval Krishna is a widely travelled and globally respected art-critic and scholar. A natural love for music, tradition and sense of duty drew him to oversee the production of this book. I find it beyond my domain to speak about the classicism of art in the book. As a lay person, I am torn between looking at beautiful paintings and sketches that go with each Raga, and devoting time to practice the bandish. Titles of the plates inform that along with older art-work, twentieth century ragamala paintings,sketches have been included.
The volume has a hardcover with dust-jacket. A compact-disc included with the book would been a dream come true. The eager students who benfit from this book, must travel to Varanasi to pay respect to custodians of ancient art-genre.

Language: Hindi with music notations
Publisher: Abidha Prakashan.
First Published: 2011
Pages: 144
Browse for books or order this title here
---
Suggested:
Bharatiya Sangeet Vadya on wikipedia
Raga Vibodh: Misrabani Purchase on external site
Sitar Compositions in Ome Swarlipi Read Review by Pt. Omprakash Chaurasiya
Ome Swarlipi mein Misrabani Vol.1 Read Story A Background note to production
Bhāratīya Shāstrīya Sangīt: Shāstra, Shikshan Va Prayōg
List of books on music.
Musical tracks.
Annotated compositions.