| | |
| --- | --- |
| Book Release - Sangeet Pravah Chirantan: Dr. Santosh Pathak | |
| By Shruti Shankar | |
Sur Pravah Chirantan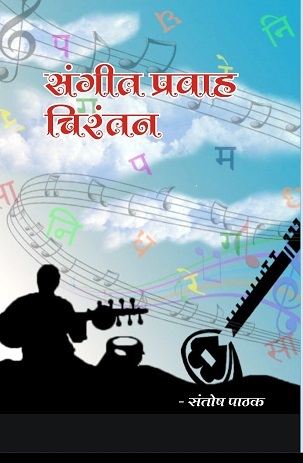 Raja Bhiya Poonchwale, S.C.E.R. Bhatt, Pt. Vinayak Rao Patwardhan and Narayan Rao Vyas are few of the renowned persons who have headed the music department of Banasthali, established in 1943. Prof. B.R. Deodhar and later the personalities like P.N. Chichore and N.V. Patwardhan have headed the department in past. Dr. Santosh Pathak is senior faculty member in Instrumental Music at Music Faculty, Banasthali Vidyapeeth. For almost two decades now he has overseen the growth of performing arts in the university, both in field of academics and in practice. He has trained students who have won laurels for this all-women university at international level both in folk and classical Indian arts. Some of his students have in turn become teachers. Even otherwise, there is fair track record of research in this University.
This volume of research papers is marked in time, although rich in diversity of topics. It has papers like Siddhi Bhatnagar's that focuses on the trendy issue of 'music-therapy' and combines tenets of medieval Nadichakra with modern psychosomatic disorders. Niyati Singh presents yet another comparative study of traditional versus institutional music system. There are some that focus on contemporary artistes, like classical violinists; some evalute contemporary music -- folk, ghazal, bhajan -- vis a vis principles of Indian classical music. Vani Sathe reexamines inter-relationship of Raga-s of a group and Anjali Sharma seeks out the classical elements in folk-lore. Garima Pancholi attempts a bigraphical evaluation of eminent vocalist Kishori Amonkar's contribution to modern Indian practice of classical music. Another such study is on Bishnupur school and traditional music of Bengal.
Prof Chetna Banavat examines limits of Thaat classification. There are some papers devoted to socio-ecenomic and historical aspects, as well.Pratibha Parik explores empathy for rural hardship in songs of Pt. Hiralal Shastri, while Deepti Sharma brings out female tragedy employing Asht-Nayika concept to Khayal compositions of Acharya Krishna Narayan Ratanjankar. Had there been a paper on the music department at Bansthali, it would have proved valuable contribution. Notable musicians
Dr. Santosh Pathak takes up the innovation, Ome Swarlipi and decodes it to bring out simple familiar concepts to make writing Indian musical notations on computer and easy task. Adequate tables exhibit that there are simple steps from logical layout of Roman key-board to typing out simple and complex combinations of Indian musical notes.
Dr. Ragini Trivedi discusses ancient Indian aesthetics and focuses on how adroitly the ancient sages had differentiated between experiences of everyday that merely push people to act in a particular way and expereincing the elements in a manner which lifts the person, his expression and its universal enjoyment to level of Art. Professor Emerita in Music, she has several books to her credit and has innovated Ome Swarlipi and developed digital music notation writing system. In recognition of contribution of modern scholars to teaching of music at university level, this book is dedicated to Sangeetendu Prof. Lalmani Misra who nurtured the faculty of music at BHU from 1957 and started course in Indian music at UPenn, an Ivy League research university in Philadelphia, in 1969. The volume is well produced and publishers, Navjeewan Publication has priced this 2017 release numbering 235 pages, reasonably at Rs. 600. The book can be located by its ISBN: 978-81-8268-192-7
Order a copy of this book and browse for others here
---
Suggested:
Bharatiya Sangeet Vadya on wikipedia
Raga Vibodh: Misrabani Purchase on external site
Sitar Compositions in Ome Swarlipi Read Review by Pt. Omprakash Chaurasiya
Bhāratīya Shāstrīya Sangīt: Shāstra, Shikshan Va Prayōg
List of books on music.
Musical tracks.
Annotated compositions.