| | |
| --- | --- |
| Tribute to Ali akbar Khan Saheb | |
| By Pooja Sardeshmukh, Tokyo | |
Tasmai Shri Guruve Namaha
A tribute to the legendary Sarod Player
Ali Akbar Khan Sahib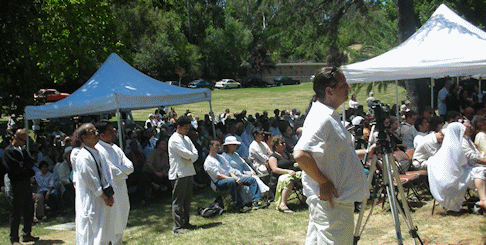 San Rafael, Sunday 21st June 2009.
In the serene and peaceful Mount Tamalpais cemetery in the town of San Rafael, Ustad Ali Akbar Khan's family and his extended family consisting of fellow artists, disciples and well-wishers paid homage to the Sarod Maestro today.
Mt Tamalpais Cemetery is over one hundred years old. No wonder the legendary maestro and his family chose this location for the soul to rest in peace.
In a fitting testimonial to the artist, the large gathering that transcended national and religious barriers paid their last respects at the resounding chant of `Guru Brahma, Guru Vishnu, Guru Devo Maheshwara! Guru Sakshat Para Brahma, Tasmai Shri Guruve namah!'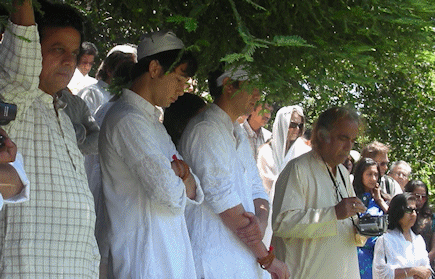 Over the course of his 40-plus years stay in the San Francisco Bay area, Khan-sahib had touched the lives of thousands of people. Since 1967 he has trained over 10,000 students in Indian Classical Music through the Ali Akbar Khan College in San Rafael. Representing Khan Sahib's musical legacy was senior Sarod player Ashish Khan and young aspirants, Alam Khan and Manek Khan. One of the speakers was a disciple who had started taking classes with him 43 years back. There were others present who had uprooted themselves from their birth places and moved to the Bay area solely for the purpose of learning music at the Ali Akbar College of Music. All remembered him as a strict teacher who believed in practice to perfection, but was always kind and compassionate. Khan-sahib's eldest son, Aashish Khan and Ustad Zakir Hussain spoke eloquently about the late maestro, with Aashish Khan recalling times when he was just a young accompanist tasked to play the tanpura and also asked to hold the taal for concerts that lasted well beyond the 2-3 hour limit prevalent today. Zakirji had a long association with Khan-sahib in the Bay Area, acted as the master of ceremony. In his speech, he asked the people gathered to celebrate the artist's life by painting the picture of Khan-sahib joining the concert tour in heaven, joining the ranks of Ustad Alla Rakha, Pandit Kishan Maharaj and other past luminaries.
The burial ceremony was followed by an informal gathering at the Ali Akbar College of Music where friends and family gathered to reminisce about the maestro. Mary Khan, wife of Khan- sahib was consoled by several of Ali Akbar Khan college students and fans.
Among those gathered was Dr. Chandrakant Sardeshmukh, the noted Indian Sitar Player residing in Tokyo Japan, who paid silent homage at the burial ceremony. Later, when speaking with the press, Panditji recalled his own fond memories and past association with the great maestro having known him from the early age of eight and attending his concerts in Mumbai. At that time, in the 1960's Panditji was learning sitar from Pandit Ravishankar and later from Annapurna-devi, the sister of Ali Akbar Khan.
Most recently, he met Khan-sahib at his residence in April 2009 to felicitate him for his upcoming birthday. Khan-sahib, who had been under medical treatment, was in good spirits that night and spent over two hours reminiscing about the past. He talked about Baba Allauddin's journey from his home town to Maihar, where Baba Allauddin did his most notable work.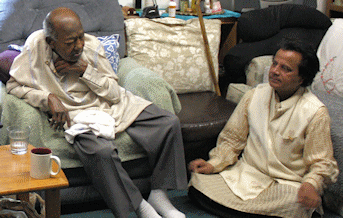 Dr. Chandrakant and the family members who attended this interesting discussion learnt about the association between Baba Allauddin and Swami Vivekananda's elder brother. Khan-sahib also spoke about how Baba Allauddin pursued his relentless quest for learning new musical instruments, practicing each new instrument with dedication until he attained perfection. This discussion led to a question that Ali Akbar Khan had been asked a number of times in the past, "Why did Ustad Ali Akbar Khan decline the Bharat Ratna"? Khan-sahib's answer was simple, "How could he, in good conscience, accept the Bharat Ratna, when his father and guru, Baba Allauddin, had not been offered this recognition".
Ustad Ali Akbar Khan was talent, compassion and generosity personified. By creating the Ali Akbar College of Music and nurturing it for over four decades, he has left a huge legacy behind. Now it is up to the youngest generation of the Khan family and the many disciples and patrons of the Ali Akbar Khan College to continue his legacy and preserve the Guru-Shishya Parampara which was carried forward in a very able manner by the late maestro.
---
Artistes of Indore