| | |
| --- | --- |
| Gopal chandra Nandi: Blending Streams | |
| By Rajiv Trivedi | |
1939 did not begin as tumultuous a year as it proved later in history. Allahabad was a prominent seat of learning; some said, the best. Charu Chandra Nandi, scion of a reputed family was blessed with a son in the month of April. He had spent best part of his time learning to play Violin while he trained for Hindustani vocal music under illustrious teachers. Soon students flocked to him and Charu Chandra started teaching music. This was a time for experiments and innovations. While Pt. Nandi was teaching young pupils at Allahabad, the future stars of Indian Classical Music were reaching Maihar -- a small sleepy town a hundred miles away -- to learn various instruments with 'Baba' Ustad Allauddin Khan.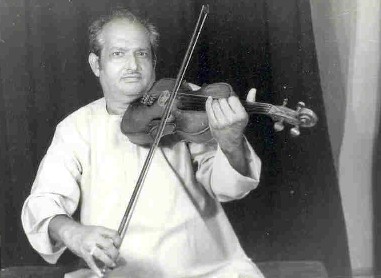 Allahabad being a holy shrine, Prayag -- the union-point of revered rivers, Ganga and Yamuna -- and a modern seat of learning, naturally leant a sense of exaltation to its citizens. Political awareness of the city was unmatched with constant examination of relationship -- past, present and future -- between British rule and Indian populace. Many British virtues had become a part of Indian sensibilities; some corroded it as well. Fortunately for music, these differing sensibilities helped in its growth. Indian music, which had ceased to be a part of Indian life had been stained due to its unsavory patronage but an understanding of the British life-style -- love for dogs, horses as well as pottery, poetry, music -- along with a desire to emulate made music once again a part of Indian home. The spirit of resistance too accepted the classical music as a bugle of awakening. So for teachers like Charu Chandra Nandi there was no dearth of students. He worked hard with them and now as his reward he had been blessed with a musically-talented son.
Gopal Chandra Nandi grew up amongst pleasant sounds and soon learnt the discipline of keeping them pleasant. In learning music, listening plays an important role. From the first moment of consciousness young Gopal was listening to his father teaching vocal music and violin to his students. Often there would be a home sitting and some other instruments too would be played. The indirect lessons served him well. When at the age of six he first handled the violin, Charu Chandra could barely keep a straight face. The father was filled with a zeal to perfect the western instrument into service of Indian music system through his son. His formal education was equally important. So while Gopal studied hard at school, the lessons at home were more of a realization than chore.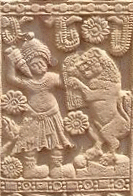 It affected the young boy in a special way and gradually he came to terms with his unique identity. He was not unpatriotic because he was playing Indian melodies on a western instrument; also the secret pride of of playing a western instrument that somehow equated him with citizens of the world raising him above the present status of being ruled by a foreign power, granted him superior confidence.
Gopal Chandra Nandi obtained a masters degree in English and went ahead to complete another masters; this time in Music (Violin). The formal education bolstered theoretical concepts of music and now Nandi could discuss the finer aspects of gayaki and tantrakari with his father. Through the use of both he gained practical insight into techniques of Raga-exposition. He mastered the art of crafting a clear presence of Raga through just a few notes. He learnt to blend the two styles of gayaki and tantrakari maintaining a fine tonal quality on the violin while bowing flawlessly through four octaves.
His reputation as a promising artiste playing Indian music on a foreign instrument grew. Gopal Chandra's mastery over Ragdari, his controlled application of meend, soot, gamak and grace notes etc. brought him appreciation and recognition. He was accepted as an approved artiste at All India Radio. Today, as an A grade artiste, his recordings and live performances are broadcast nationally by AIR and Doordarshan.
Music was a force inside Gopal Chandra Nandi rebelling to stream out and immerse him in the process; for a brief period it seemed, it would. Yet, the wisdom gathered from his father and later from teachers at school and university also occupied a part of his brain. This bank of information was less impatient but equally forceful in shaping his personality. He had learnt so well that Gopal had to teach. He joined Marris College, Lucknow -- the most prestigious institution of music in north India. S. N. Ratanjankar, who was Bhatkhande's top disciple and a close associate in the archival work in which Bhatkhande had been engaged, was Principal of the Marris College of Music in Lucknow. Later this institution came to be known as Bhatkhande Hindustani Sangeet Mahavidyalaya and now it has gained the status of a deemed university -- the only music university in Uttar Pradesh. Teaching at this institution was fun, honor and labor of love. In the humid heat of Lucknow, learning to wipe the sweat away without stopping the bow was an equally important lesson. He would begin the lessons by documetning the types of 'screeches' possible which were to be avoided at all cost. Many top musicians of India have either been a student of this college or have visited it as musicians in residence. Apart from such stalwarts as Faiyaz Khan, Rajabhaiya Poonchwale, B. R. Deodhar, Mahadev Prasad
Mishra, Krishnarao Pandit, Nissar Hussain Khan, Mushtaq Hussain Khan there were such prestigious associates like Balasaheb Poonchwale, V. G. Jog, S.C.R. Bhat, Chidanand Nagarkar, K. G. Ginde, P. V Chinchore, J. D. Patki, M. L. Dantale, Sumati Mutatkar, Dinkar Kaikini, A. Kanan and severl others. Susheela Mishra in her book amply documents the venture of music learning at this college. Prof. Nandi retired from this university some time back but is till teaching (almost as many days) as visiting professor at many institutions of music throughout India.
Talent scarcely remains restrained. Having been raised with training in vocal music and violin, Gopal Chandra developed a passion for composing on his own. With students available he would try out his compost ions with pupils playing on different instruments. These small orchestral pieces became very popular and he undertook several major projects of orchestration. Often it involved a dance-drama presentation and Prof. Nandi was admired for his excellence in composition and direction. His innovation can also be espied in his fingering and bowing on the violin. Creating a personalized technique for these he has established a unique style, which finds few parallels.
He has given concerts on stage and radio admired by listeners throughout the country. Sur Singar Samsad, Bombay awarded him with a Surmani, Bharatiya Sangeet & Lalit Kala Vidyapeeth, Kanpur granted him the title, "Sangeet Acharya". "Sangeet - Mahopadhyaya" was the title given to him by Braj Sangeet Vidyapeeth, Mathura and "Sangeet - Kala-Ratna" was awarded by Sangeet Kala Kendra, Agra. Prof. Nandi admits, "Such honors and awards have little personal value, but the very institution of award holds encouragement for the artiste at an abstract level. He feels happy that the society is concerned about the discipline for which the artiste has sacrificed all physical comforts."

---
References :
Music Makers of the Bhatkhande College of Hindustani Music. Susheela Misra, 1985