Idea, practice, appreciation — this is the cycle involved in creation and enjoyment of art. Expression itself holds a great value in the artistic process. Change in external circumstances, in living conditions, have honed human skills and instincts. The aesthetic element manifesting itself through numerous practices had been taken for granted. It was only as we bid adieu to second millennium that need to protect and nurture this spirit was recognized.
Art as Vehicle of Intangible was therefore chosen as topic worthy of artistic deliberations. Madhukali organized annual Omenad Conference on 31st December, 1st January and 2nd January 2011 with performances by various scholar-artistes leaving lasting impression on aficionados of Bhopal. Music lovers, scholars and enthusiasts had travelled from across country to attend conference and concerts during three-day event organized by Madhukali in collaboration with Indira Gandhi Rashtriya Manav Sangrahalaya. Several well-wishers and music-lovers had expressed their desire for organization of another such event and at cities other than Bhopal. In discussing the essence of Indian aesthetics in Art as Vehicle of Intangible, it had come out that more opportunities must be created for expression of art in keeping with sensibilities innate in Art, to effect course-correction.
In the domain of Indian Classical Music the urgency for safeguarding of traditional practices needs to be recognized. For it to be vehicle of intangible, Art needs to be regularly displayed. It was recognized that the there are two main areas where safeguarding efforts have to be directed. First, the physical vessel — the musical instruments — and then, the treasure being transported — content of Indian music require attention of ICH facilitators. Madhukali, in all previous Omenad Annual Conferences had emphasized on the urgent need of safeguarding medieval and ancient Veena-s that over the past few decades have fast fallen into near obsolescence. The two forms of Veena that reached 20th century — Rudra Veena and Vichitra Veena — have almost disappeared in 21st. Generational scions alone may find motivation to master these challenging ancient instruments.
Concerts for Conservation — Alaap held at Bhopal & Indore on 7th and 8th January 2012 showcased the two forms of Veena-s in two cities. Days later, Durlabh Raga Prasang was organized at Indore. Three day event designed to focus attention on content of Indian classical tradition, started on 13th January. Scholars and performers from across the country discussed reasons for increasing lack of visibility for traditional and innovative content. Afternoon discussion held at EMRC was recorded for enrichment of education.
Discussion
13th January 2012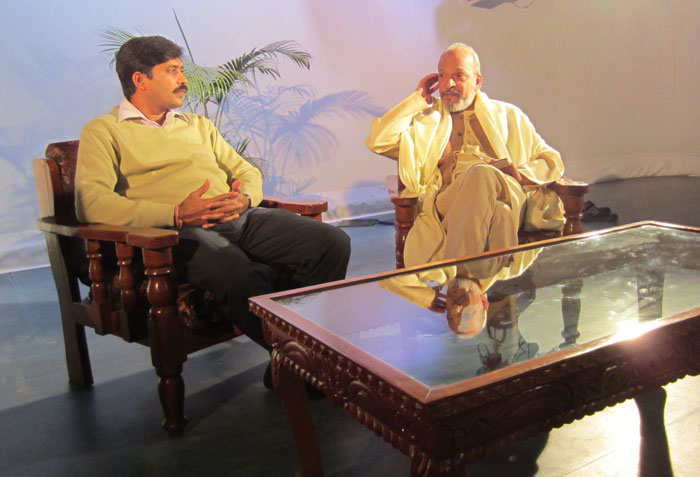 Doyen and representative of Jaipur-Atrauli school, Pt. Rajshekhar Mansur was chairperson for the session. Shubhada Marathe also represented this school albeit from a different branch. Dr. Sanotsh Pathak as an instrumentalist trained in Misrabani, provided a complimentary view. Daughter of vocalist Mama Saheb Muzumdar, Smt. Kalpana Zokarkar has inherited musical essence, which now has begun to be called the Indore Gharana. Dr. Suwarna Wad and Dr. Bageshri Joshi, both vocalists and professors, brought their experience as teachers to the panel discussion. Dr. Ragini Trivedi conducted the session. As the various musicians substantiated their statements with practical demonstration of Raga, phrase or even a note, younger participants in the event were thrilled and excited by precious information coming their way.
Panelists discussed reasons for Raga-s being eroded from public memory and musicians' practice. Pt. Mansur narrated how he was taught complex compositions at an age other boys would sing popular film-songs. Together they identified four reasons for Raga-s falling into oblivion and being termed as 'fringe', 'rare', 'little-heard', 'Durlabh' or 'Aprachalit'. First three were referred to as internal, fourth as external factor.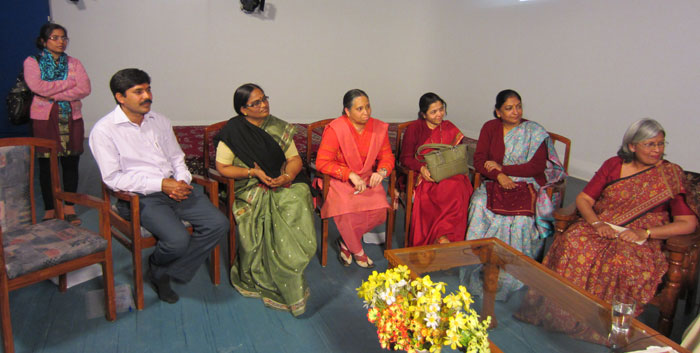 Factors Behind Raga Erosion
Internal
The duty of the artiste is 'to lift the taste of the audience, not swoop down to it'.

Pt. Rajshekhar Mansur

Ignorance. The teachers teach out of their limited knowledge; hence, the number of prevalent Raga-s tends to diminish. Several factors lead to this. It was pointed out that unlike western education models, music is not taught as subject to children at any level today. If all children were given music education compulsorily for even five years, their adult response to good music would improve. With decay of Gharana-s or Gurukul teaching system, different institutions specializing in certain area and zealously nurturing them have greatly declined. No longer is multiple, simultaneous, competitive scenario of music practice cum training to be espied anywhere. It has been replaced by uprooted individuals teaching indifferent content to hobby-learners. Loss of dedication has been encouraged by diverse activities available to growing youth and changed sense of time.
Difficulty of mastering. In case of being taught by an accomplished teacher, learner is restricted by one or several reasons and is thus unable to practice, perform the Raga with required perfection. When this happens (s)he focuses on less demanding Raga-s and tends to neglect the complex or challenging ones. Dr. Pathak pointed out that instrumentalists may find Raga-s with distantly placed notes tougher than those with close spaced ones. Once again, the demand on individual to manifest output of learning in a short span, works against complex Raga-s requiring higher learning curve. Pt. Mallikarjun Mansur held that right age to perform is 45 and above. Son, Rajshekhar Mansur accompanied his father but took up individual performances much later in life.
Audience Reception. Pt. Rajshekar Mansur holds that the duty of the artiste is 'to lift the taste of the audience, not swoop down to it'. It should be done by giving them a package of popular and lesser known Raga-s in any given sitting. There are a number of contemporary musicians who having learnt at feet of masters have themselves mastered many such Raga-s but refrain from performing them before general or mixed audience. There still are a few choice home-sittings where audience comprises largely of practicing musicians; complex content is well-received there. Ways and means to encourage people to make dedicated effort and spend time to appreciate music need to be devised. Even if organizers mark a portion of their events specifically for presenting Aprachalit or lesser known Raga-s, it would aid visibility of vast treasure Indian music is on brink of losing. High-profile artistes may serve as true ambassadors if they routinely include such Raga-s in their presentations. While his father never performrf it in public, once he granted permission, Rajshekhar started singing Lach'chha Sakh in public and today it is appreciated by lay and aesthete alike.
External
Commercialization. Music produced for films largely constituted the music industry in India. Classical music occasionally included on fringe, remained untouched by marketing policies and strategies of music industry. Ever since technology replaced records with magnetic cassette tapes, business jumped many folds. Soon it began to control music production and content. This trend strengthened with digital format and redefining of markets through LPG. Artistes were marketed as brands, their music woefully packed into marketable slots. Wide range of Raga-s meant huge choice of content and hence low sales volume. It was need of the industry to narrow the content range. The concept of popular Raga thus received industry sanction.
Dr. Ragini Trivedi suggested linkage between generational artistes and academia to plan Raga-teaching so that all Raga-s get taught. "If 350 teachers across the country teach one distinct Raga to only 10 students in as many years, in a decade we shall have ten performers of each Raga." Pt. Rajshekhar Mansur rose up to occasion and promised that he would willingly spare time for any workshop conducted for this purpose.
If 350 teachers across the country teach one distinct Raga to only 10 students in as many years, in a decade we shall have ten performers of each Raga.

Dr. Ragini Trivedi
Workshop
14th January 2012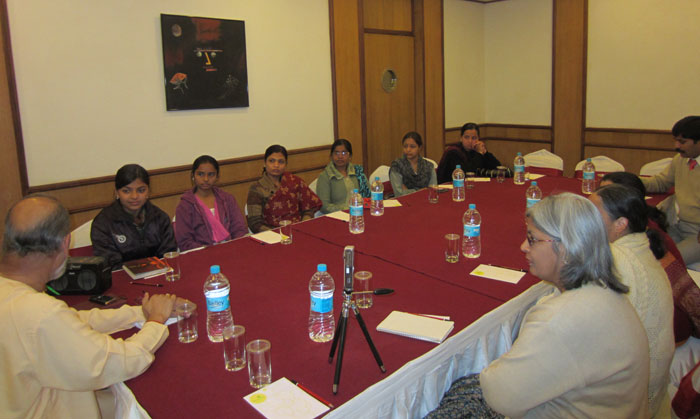 Eight students were selected to participate in the workshop session. Artistes and scholars were present as observers and to provide expert comments. After initial discussion about methodology of teaching music, Pt. Mansur demonstrated the manner of teaching passed on to him by his Guru and father, and his father's Guru. Ancient Indian system of teaching, Gurukul methodology is alive only in Guru-Shishya tradition retained by music.
Of the eight, Pt. Mansur addressed the student sitting nearest to him. When awe-struck girl conveyed her willingness, he sang out a phrase. She repeated it. He sang out the next phrase, the girl followed. He sang a variation; the willing pupil tried it out. Soon as he moved from phrase to phrase and variations, other students also joined in. Pt. Mansur, however focused on teaching the single student. Finally, he would lead with a phrase and the learner would continue with it singing out variations as well. During all this, he spoke only when necessary and then too, only to the girl he was teaching.
He demonstrated that teaching requires absolute concentration and total communication free of diversions. Student learns through imitation. Keen perception and total obedience are required. The pace is kept such that the student does not go lax, nor does (s)he fall far behind the Guru. Continuous singing by the Guru keeps musical notes alive all through. The whole interaction is charged, intense and energetic. There is no scope for thought, for deviation. Continuously music, from ear to throat! The other seven students learnt the Raga as well. But their learning is preparatory. This was an observation session for them. When any of them goes for one-to-one session, continuous listening/following/singing cycle would be one of the real lessons.
Experts identified the various phrases of the Raga he taught as belonging to this and that Raga; how notes of one blend in a definite manner to create this beautiful Raga — Lajwanti — but Pt. Mansur never informed the students about notes, their relationship or even the name of contributing Raga-s. He held that such information should come later, if at all. Music is learnt first through ear. Only when the learner is able to produce all sounds with perfection, the mind can view the raga objectively and marvel at finer nuances that contribute aesthetic embellishment to the structure. This methodology is organic in essence, taking each student to his or her zenith. The very act of teaching proves out that music is pathway to Moksha; teacher and learner are so engrossed with notes that nothing else exists for them.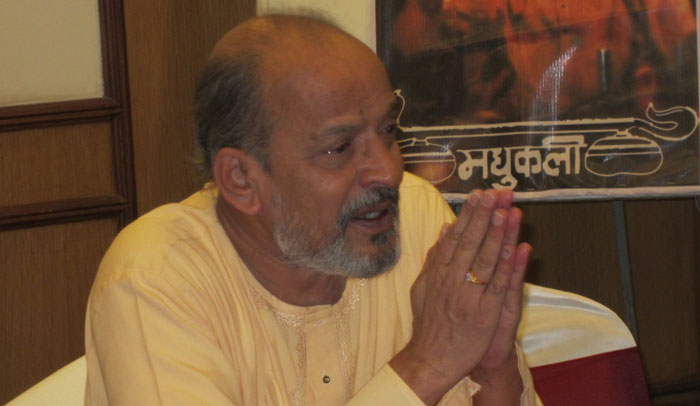 When so many well-formed ancient Raga-s challenge my ability as singer, how can I find time to create new ones instead of unraveling them in perfection?

Pt. Rajshekhar Mansur
It was obvious to all that such teaching is not possible in formal, one-to-many environment of institutions. Through limited practice students do not master Raga for presentation but they develop a critical understanding of music, which might help them to train themselves and others. They handle academic aspects, while one-to-one learners perform. It is with one-to-one learners and generational practitioners that musical form retains its originality. The rigid self-discipline inculcated in Guru-Shishya tradition employs many to carry knowledge across centuries; only the worthy dare attempt modifications or additions. Freedom accorded by institutions often turns to license with innovations for-sake-of-innovation that flout fundamentals of Raga consecration. Said Rajshekhar Mansur, "When so many well-formed ancient Raga-s challenge my ability as singer, how can I find time to create new ones instead of unraveling them in perfection?"
Music enthusiasts later congratulated participants, especially Nidhi Joshi for a successful workshop. Dr. Wad confessed that despite repeated pleas to plan structure of courses in performing arts differently, general apathy to arts and excessive thrust on STEM discouraged teacher and learner both. Several young performers requested organizers and Pt. Mansur to conduct workshops for longer duration so that they may learn more such unconventional raga-s.
Presentation
15th January 2012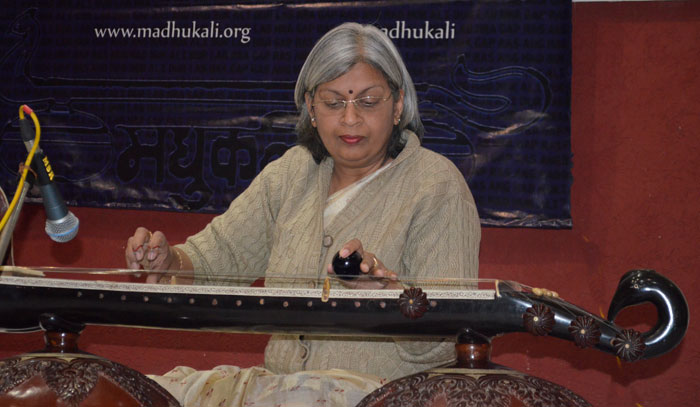 The idea discussed, practiced needed to be demonstrated. The final session of Durlabh Raga Prasang was called Belavali – a term used in Sanskrit texts both literally (string of Jasmine) and metaphorically (freshness of dawn). From belavali is derived Bilavali or Bilawal. Bilawal is main Raga of Thaat of same name. While staunch faith no longer rules, artistes and seasoned listeners still like to maintain Raga:Time sanctity. Jaipur-Atrauli tradition has several exclusive gems sung in morning.
Nine in the morning is always pleasant in Indore, but on this Makar-Sankranti, it was exceptionally cold. The chill seemed set to test determination of local aesthetes. The venue, Preetamlal Dua Auditorium on the other hand favoured them. Enthusiasts from Guna, Ujjain, Bhopal, Mhow and more had occupied their seats in the cosy theater. Merely a week back, Madhukali had presented ancient instruments Vichitra Veena and Rudra Veena to audiences of Bhopal and Indore. To reinforce its dedication to safeguarding instruments and content from getting extinct – Durlabh – Belavali started with recital of Raga Gunakali. It was rendered on Vichitra Veena by Dr. Ragini Trivedi, leading exponent of Misrabani. She was accompanied by another generational artiste, Chitrangana Agle Reshwal on Pakhawaj.
Bhankar is a morning Raga employing notes … that is rarely heard these days. Pt. Rajshekhar Mansur started his recital with this Raga of Marwa Thaat. "He Kartar, jagat nistara" is a composition his father Pt. Mallikarjun Mansur used to sing. Many in the audience found both, composition and Raga to be new; yet, all enjoyed it thoroughly. He followed it with two strains of Sakh — Ram Sakh and Lach'chha Sakh. While Dev Sakh and Bhav Sakh belong to Kafi Thaat and are types of Kanhada, the ones he sang carry strains of Bilawal. With such rarities as Kakubh Bilwal and Shukla Bilawal sung only in this tradition, it was natural for audience to make a demand for these. Voice was raised in favour of Jai-jai Bilawal too but Pt. Mansur wanted to educate the audience about the real structure of Bilawal. So, he presented the chaste form of Raga, termed Bilawali in Sanskrit texts. As the whole event was devoted to raising visibility about diminishing practice of Indian Raga-s, Rajshekhar Mansur selected a complex Raga Khat constituting of six Raga-s and presented a still exceptional version, Khat Todi. He had presented a bouquet of choice morning Raga-s but to an audience intoxicated with his melodious singing, time theory of Raga-s held little excuse. As token of his acceptance of their overwhelming appreciation, he acceded to their request and presented a quick rendering of Bihari — "Piya bina neend na aayee" — a light Raga sung from midnight to morning.
Dr. Mohan Mungre holds a long-termed relationship with Jaipur-Atrauli. He used to accompany Pt. Mallikarjun Mansur whenever he came to Bhopal and Indore. On most of his visits, Rajshekhar Mansur could get Dr. Mungre to accompany him. He was also pleased that Shri Ulhas Rajhans, another old acquaintance provided Tabla accompaniment. The student who was arbitrarily chosen for workshop, Nidhi Joshi played Tanpura.
None in the audience had realized that chilly morning had blossomed into a sunny noon. For almost three hours they had listened to exquisite singing of Jaipur-Atrauli doyen. Inner warmth oozed out as hearty appreciation. The task was done.