Chhandak: A school for Odissi

By

T.Tuhinanshu
Aesthetic sensibility to a varying degree is shared by all human beings. That their natural inclination for rhythm and vibration can be tapped for a classical art-form is the belief of Dalia Dutta. Having obtained a masters in Odissi from Rabindra Bharati university, Kolkata, she belongs to the modern breed of artistes who go beyond mere performance. "My objective is to promote the rich culture of our country by training enthusiasts in Odissi -- one of the oldest and most graceful classical dance forms of India." There is reason behind this enthusiasm of Dalia.
She learnt Kathak from Guru Brajo Banerjee, Bharatnatyam from Guru Khagendranath Burman, Rabindra Nritya from Guru Ashit Chaterjee. It was under Guru Murlidhar Majhi and Ms Pousali Chatterjee that she trained for Odissi. Learning in a workshop conducted by Sanjukta Panigrahi has been a memorable experience while training for creative dance under Tanushree and Anand Shankar has infused her with present missionary zeal.
From Nritta to Nritya, Indian dance-forms celebrate the human body using it as deity, altar and devotee alternatively. Dance is a fluid exercise to concretize space. It provides scope for imagination on several levels. Dalia's participation in numerous dance events crafted for different occasions has enriched her in both, content and presentation. She participated in cultural programmes of Asian Games, held in Delhi in 1982, of SAF Games in Calcutta in 1987. She was also a performer in Assam government's endeavor, Banga Sanskriti Sammelan. As a member of Calcutta Peoples Choir she toured within the country and interacted with performers, enthusiasts and novices. Even then she motivated several young persons to take up classical dance-forms.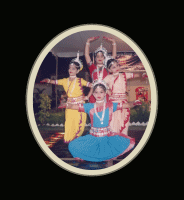 Dalia started her dance school in Kolkata and when she came to Indore, the school accompanied her. Her first priority on reaching the calm and pleasant commercial capital of Madhya Pradesh was to look for a residential accommodation that also contained space for a dance-hall. Soon, Chhandak was operational in Indore. The town has grown in layers. Over the native Malwa rural layer came the feudal one of a gradually burgeoning Holkar empire, involving large scale migration from Maharashtra; then came the industrial wave in third and fourth decade of twentieth century bringing people from north. After formation of the state in 1956, the pace changed and people from educated middle class reaching here from different parts of the state and country gave it a new flavor. The economic boom of the nineties turned the city into a hub for modernity. Commercial establishments grew with IT based education, services and institutions. This has brought a thin, almost invisible yet influential layer of people steeped in MNC culture. Together, all these give rise to a population that has part-harmonized part-contradictory, behavior-system. Indore is representative of modern Indian cultural crisis where past and future are both hazy dynamic symbols, the illusive multifaceted of which parallels uncertainty, meted out by the present economic boom spelling huge gains for one and sheer disaster for the other.
A large population of students that comes to Chhandak is of first-time learners. They might belong to any of the five constituent tiers of the town, but for some reasons they are the first in their family to take up dance as an activity worth training for. In most cases, their sensibilities are formed by current films and TV serials; another strong influence is the traditional garba dance that has been corroded by commercialization in the past decade. There are a few names -- classical artistes who chose Indore or Dewas for their residence -- but the city was never a educational center where music and dance are concerned. For short periods literary figures have come to Indore, mostly as writers, journalists or editors with Nai Duniya, but none found the town conducive to their growth and left for greener pastures. There are a number of home-grown scholars and academics committed to this region, yet they have little influence over the general populace.
Confesses Dalia, "It is not the pupils alone, but through them the immediate society that I aim to sensitize about arts in general and Odissi in particular. Parents of several students come with a request to teach their child to dance on this or that film-song. Initially I was disturbed but when results have proved that people are willing to change, I educate them with more patience and tolerance. Then they tell others and consequentially I have more students opting straightaway for Odissi than before."
Young pupils have to be taught individually but their learning improves when they act as member of a group. So after they have mastered some basic steps, they are taught short compositions involving Abhinaya. The busiest days are when schools close for vacation. during this month and half long stretch, Dalia organizes workshops for which learned dance-Guru-s are invited. She plans a ballet or dance-drama in which every student is given a part. She has choreographed several presentations like Karno, Tagore's Chandalika, Wilde's Selfish Giant, Barsha Mangal, Sukumar Ray's Juto Abiskar at Kolkata with students of her school besides Odissi performances. Students at Indore too have given Odissi performances besides presenting a dance-drama, Chitrangada.
The annual presentation of Chhandak in the second week of July is an awaited event in Indore. The students presented "An Evening of Classical & Creative Dance" on 9th July 2004 at Rabindra Natya Griha, Indore. On 9th July 2006, apart from student's performance, a presentation by Srijan mesmerized the audience. Srijan is an Odissi dance team functioning under the direction of Sri Ratikanta Mohapatra, son of legendary Guru Kelucharan Mohapatra Chhandak's presentation for 2007 (on 6th July at DAVV Auditorium) includes an Odissi ballet by Odissi Vision & Movement Centre choreographed and directed by Ms. Sharmila Biswas, senior disciple of Guru Kelucharan Mohaptra. Two day workshop by Ms. Sharmila Biswas was organized by Chhandak for students on 6th and 7th October 2007 at Eurokids, Vijay Nagar, Indore.
In 2008, Chhandak presented Madhavi Mudgal and her troupe. It was a treat to watch this great danseuse. In her brief speech, Ms. Mudgal stressed upon the need to reserve and promote native Indian arts otherwise Indians shall loose their sensitivity. She appreciated the role of Chhandak in creating awareness about the dance form in a state where it had not existed earlier.
The appreciation was not formal. Students of Dalia are intense, concentrated and well-informed. It was truly an achievement when in Theatre Olympiad organized at Cuttack, they presented their dance on 17 January 2009 and bagged the prize. It was great compliment when Vice president of Cuttack Kala Kendra appreciated the duet composition for its imaginative choreography.
It seems that Dalia Dutta's desire, "like other places, even Indore should have the provision for a degree course in Odissi" might just come true in near future.
---

Links:
Essential elements of Vocal, Instrumental & Dance
click here to contact Dalia Dutta